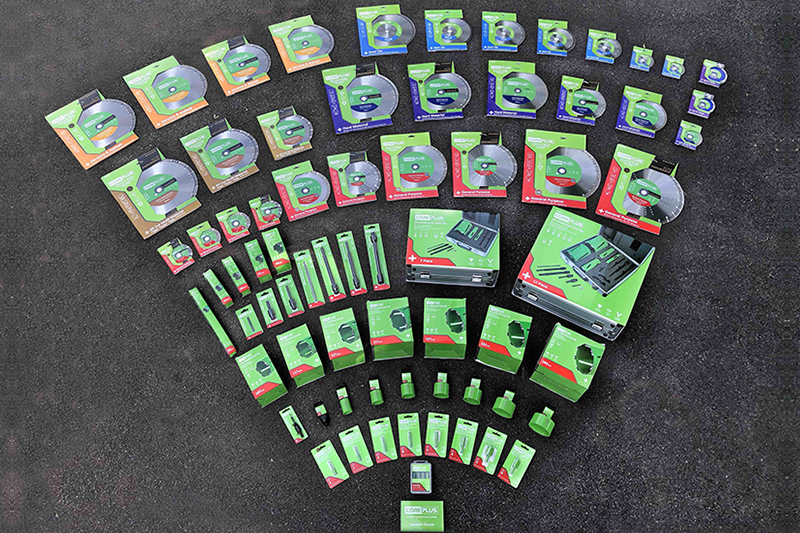 CorePlus is a new comprehensive range of Diamond Cutting Blades, Dry Diamond Core Drill Bits, Diamond Tile Drill Bits and Diamond Hole Saws. The range has specially designed packaging that makes it easy to match the right diamond blade to the job in hand and therefore making it easier to choose at the trade counter.
As well as Diamond Core Drill Bits, Tile Drill Bits and Hole Saws, the CorePlus range includes Diamond Cutting Blades with options to suit every budget, without compromising quality. Users need simply to look at the packaging and it clearly shows them the type of jobs it will do and blade life they can expect. For extra simplicity, when long blade life is the key selection factor, the Elite Endurance mark provides the maximum number of cuts for your spend.
As well as the Elite Endurance option, the Diamond Cutting Blades range also feature Hybrid Turbo Technology (HTT), with interspersed turbo segments for optimum balance of long life and speed. This provides the speed and clean-cut benefits of a turbo blade combined with the efficient debris removal and cooling of a segmented blade.
"Selecting the right diamond cutting tool can be confusing but CorePlus changes that and we have purposely made it the 'easiest to understand' range of diamond blades available," explains Brian Trevaskiss, CorePlus Marketing Manager.
"Our uncomplicated naming and simplified packaging make it simple to match the correct blade for the material being cut. We are matching user-friendly, no-nonsense packaging with high quality diamond technology which we believe will make CorePlus a success."
Impressive safety and quality standards are integral to the range and the products are manufactured with state-of-the-art production technology.
"All our diamond cutting blades are manufactured to EN 13236 and our Elite Endurance range meets the additional certification standards required by oSa the German Organization for Safety of Abrasives," continues Brian.
"Whilst quality and concentration of diamonds is an important factor in cut precision, the bond matrix that delivers the diamond is just as crucial. Our bond technology has been developed by the metallurgist professor at the University of Sheffield here in the UK and is specially formulated for different substrates."