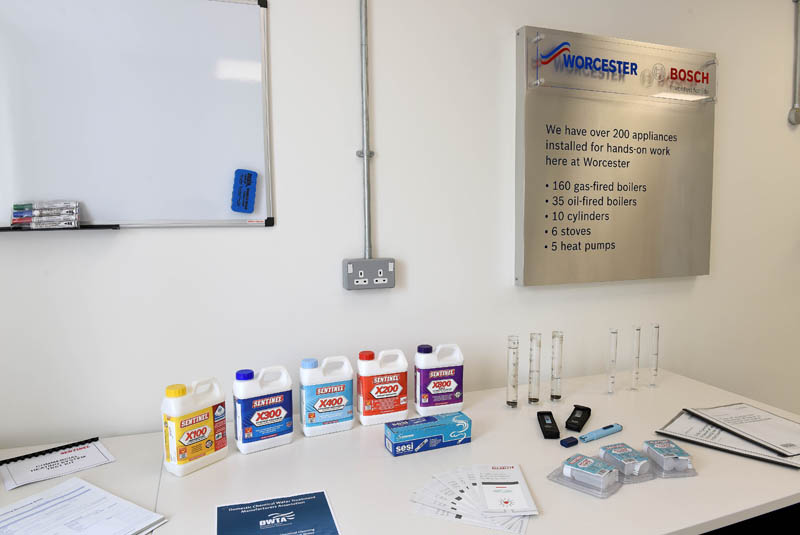 A new training course, designed by Worcester Bosch, promises to make chemical water treatments for central heating systems easier for UK installers, while providing a full understanding of the latest British Standards.
The course, which was designed by Worcester in partnership with water treatment manufacturers Fernox and Sentinel Water, demonstrates BS 7593:2006 requirements through a mixture of theoretical and practical exercises.
All aspects of water treatment, for both new and existing installations, are covered, including: the causes of common problems, choosing the right products, power-flushing techniques, Total Dissolved Solids (TDS) meters, and system water testing.
Courses last a full day and are held at Worcester Bosch's £3.5m training facility in Worcester. Installers can also attend courses in Wakefield or West Thurrock.
Chemically treating the water of central heating systems before, during and after an installation reduces the likelihood of scale, sludge, rust or microbial build-up, as well as corrosion to interior components; all of which can impact the energy efficiency and performance of a central heating system. For this reason, it has been a requirement for all new installations and remedial work under the Building Regulations for England and Wales since 2005.
Nick Fothergill, Worcester's National Training Manager, said: "Our training course gives installers all of the tools and knowledge they need to effectively and efficiently clean central heating systems. We cover everything, from choosing the right cleaning chemicals, to testing the system post-installation. In this way, installers can feel confident that they are working in compliance with the latest British Standards at all times.
"The benefit this can give to an installer's reputation cannot be overestimated: taking a professional approach to chemical water treatment demonstrates a commitment, not only to quality service, but to the customer's long-term comfort and energy-efficiency. With energy prices as they are and homeowners feeling the squeeze, I have no doubt that installers who are proficient in system cleaning will soon find themselves top of the list in what is, otherwise, a very competitive market."
Courses cost £25.00 per person and are available to book via the Worcester Bosch website. For more information, or to browse the courses currently available, visit: www.worcester-bosch.co.uk/professional/training