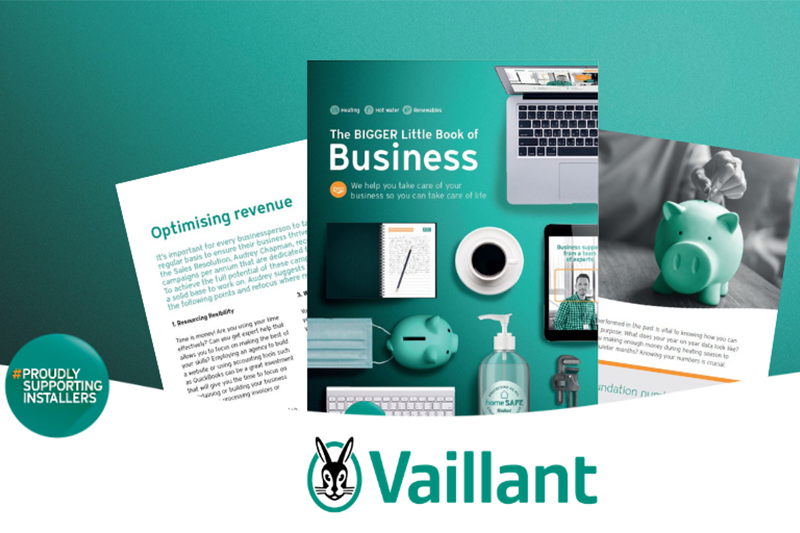 2020 saw Vaillant adapt its face-to-face Business Clinics and training sessions to an online format and launch a series of topical and technical podcasts to give assistance to installers, and now its Advance members can now take advantage of the new Bigger Little Book of Business, dedicated to strengthening installers' businesses in 2021.
Commenting on 2020, Alice Woolley, Marketing Director at Vaillant, said: "To say the last 12 months has been challenging is an understatement. Yet, throughout it we have remained committed to supporting installers with the flexible business support they need, when they need it. The launch of the Bigger Little Book of Business is a great way to continue our support, which has included online Business Clinics, Podcasts, two VW van winners and even a £5k marketing support package giveaway that saw an installer receive a van wrap and marketing support to increase his standout and promote a recognisable and professional image to all customers he visits."
Available exclusively to Vaillant Advance members, the second edition of this business support guide has been designed as a go-to tool for practical support. Featuring expert advice from The Sales Resolution, APHC, and The Boiler Business, the topics covered expand on the Business Clinic content from earlier in the year to include building income resilience, diversifying your business into new areas and low carbon technologies and providing support for installers wanting to explore Vaillant's Why Wait strategy.
When it comes to marketing your business, knowing where to start can often be a stumbling block. This guide also offers advice on how to segment your market, use digital media successfully and, importantly, be realistic with what you are trying to achieve; whether that's maximising every customer lead or offering standout service in a busy marketplace.
On-the-go know-how
2020 was far from ordinary and this latest addition sits neatly alongside the comprehensive set of Business Clinic Webinars and The Podcast series, that offer installers easy access to expert business and technical know-how as and when time is available.
Lasting one hour each, the webinars are still open to view online and cover a host of issues that are essential not only as part of working in the heating sector but to installers themselves – such as mental health, business resilience, productivity, marketing and diversifying skills.
Vaillant's exclusive podcast series is also designed to be convenient and easy to listen to. Experts from different fields share unique insights into topical themes such as workplace wellbeing, and advice is available from installers who have taken the plunge and branched out into low carbon solutions, including heat pumps. For those wanting to delve deeper, a mini-series of technical podcasts will follow soon, looking closely at areas from controls through to water quality.
To access all Advance business support tools and be notified when new tools come online in 2021, or to download a copy of The Bigger Little Book of Business, visit www.vaillant-advance.co.uk