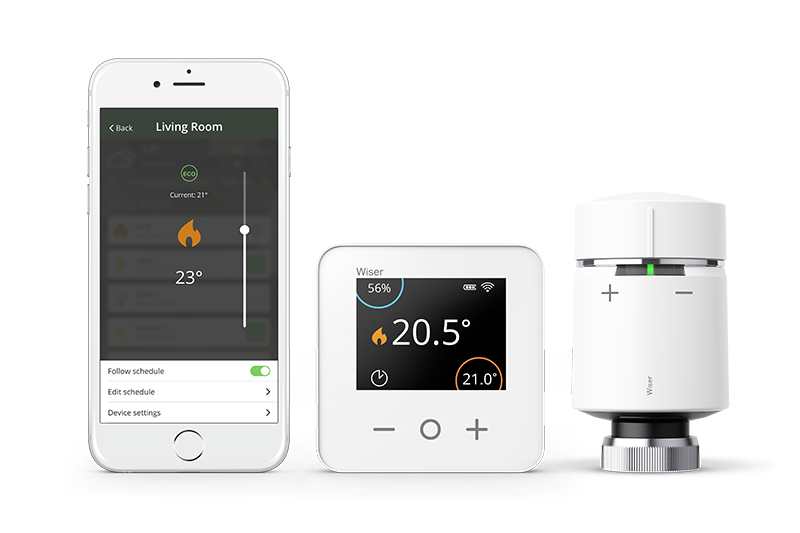 Jamie Bennett, Engineering Director at Drayton, discusses some of the growing trends heating engineers can expect to hear more about in the year ahead.
Connected home
It's safe to say that one area that has seen large growth in 2020, and is expected to continue into 2021, is the demand for connected technology in the home.
In a recent Delta-EE report, it was highlighted that smart thermostats are continuing to lead the way here in the UK when it comes to connected products. However, smart TRVs are not far behind. As more homeowners begin to understand the benefits of multi-zoning and room-to-room temperature control, it's expected that the annual sales of smart TRVs will double by 2021, presenting a large opportunity for heating engineers to up-sell these types of systems.
With this in mind, it's also expected that smart heating control manufacturers will begin to develop platforms that allow homeowners to manage a wider range of products all from one app. For example, Wiser already has this capability, allowing users to control its Wiser Plug through the Wiser Heat app, and is reviewing ways to incorporate products such as lighting in the future.
Streamlined maintenance
Whilst this is something already offered by some manufacturers, remote diagnostics is something that is set to grow in the coming year and is already being explored as an upgrade for Wiser.
As technology becomes more connected, it is opening the way for manufacturers to offer higher levels of automation. In the future, for example, the heating system will be able to monitor its own performance and proactively identify potential system faults and call out a heating engineer to fix this before the homeowner is even inconvenienced.
Not only will automation and remote diagnostics help to improve customer satisfaction, but it will also help to streamline the work of heating engineers. By being able to log in and remotely identify the cause of an issue, installers can save time on visiting sites to determine which part they need and only order in the items they know are required to complete the job.
Home Energy Management
As we continue to look for new carbon-neutral ways to heat the 23 million homes in the UK that currently rely on gas boilers, it is expected that electric heating methods will become more widely adopted including heat pumps, electric IR radiators, and underfloor heating. As this happens, the industry is now shifting away from the concept of 'Smart Heating' to 'Home Energy Management'. According to a Delta-EE report, Home Energy Management is expected to grow by 31% every year over the next five years.
The concept of home energy management looks at how different technologies within the home can all work together in order to optimise performance, and after an electric car, electric heating is likely to be the second biggest consumption for most households.
In the future, energy suppliers may offer incentives and better tariffs to their customers in exchange for allowing the energy supplier to optimise their home heating. This would give suppliers the ability to better manage the demand placed on the grid whist catering for the homeowners needs. Additionally, home energy management systems will be able to learn exactly how to optimise energy storage and usage based on homeowner behaviours. For example, the system will register that the solar panels installed collected the most energy between 10am and 4pm, with a peak in energy usage at 6pm when the whole family is home. It'll then learn based on the remaining energy stored when the optimum time is to start charging the electric car in order to be ready to go by 8am the next day when the homeowner needs to leave the house.
Whilst this type of fully automated home might be some way off, it's important that heating engineers are educating themselves as early as possible to be in a position to up-skill and adopt this new technology as part of their offering.
Investment in home improvement
Following the longer periods spent at home during 2020, there was a significant increase in homeowners looking to make home improvements, and with working from home likely to continue into the future, this is something we expect to see more investment in throughout 2021. As part of this, improvements to the heating system are likely to be top of the list for many homeowners.
Whilst annual servicing is recommended, we know that customers usually overlook this. However, with homeowners looking to improve their homes, there's likely to be a rise in the number of those servicing and upgrading their heating system in spring and summer. This presents heating engineers with an opportunity to up-sell system upgrades that will offer improved efficiencies, such as smart heating controls like Wiser that are designed with intuitive features.
Following a year of uncertainty, it is clear that 2021 is going to bring with it a host of new opportunities for heating engineers. No matter what these developments might be, it is important installers keep on top of training and remain informed on the latest industry updates in order to put their business in the best position for the future.