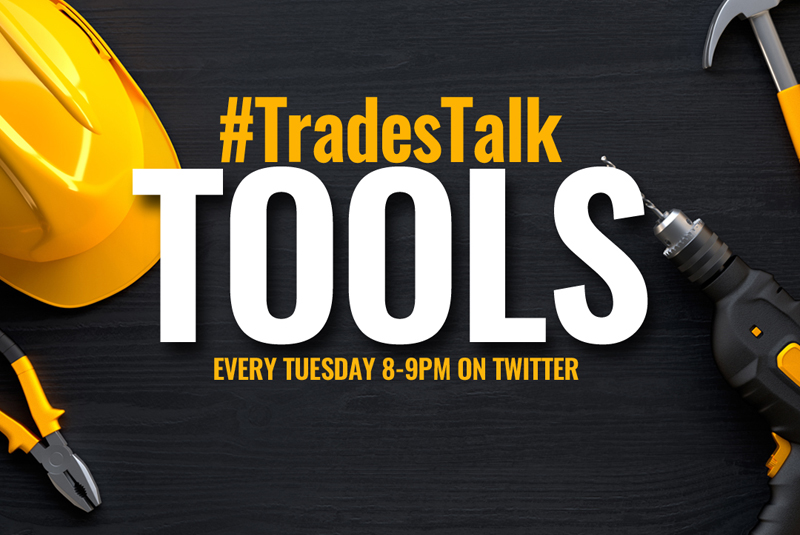 Tradespeople from around the UK (and beyond) joined in the #TradesTalk Twitter chat and this week record numbers got involved to talk all things tools. Participants in the chat discussed their favourite tools and swapped tips and advice, many sharing pictures of their tool bags. Here is our round-up of the best bits from the chat, starting with a question about recent purchases.
A1. I bought a Mortar Gun for repointing. Yes it's got nothing to do with wood but I like get stuck into other jobs. Also it felt quiet satisfying lol 🙂 #TradesTalk pic.twitter.com/h91lJi81K4

— Tibby Singh (@TibbySingh) January 15, 2019
Then the chat moved on to how the trades keep their tools in tip-top condition.
If you keep kit in bags/boxes chuck some of the Silica Gel bags you find in other things in there with them.
It will help keep moisture controlled and reduce rust issues 👍 #TradesTalk

— Barraboy 🏴󠁧󠁢󠁥󠁮󠁧󠁿🇬🇧🇪🇺 (@SamArmstead) January 15, 2019
A2: I take very good care of my tools. Clean them often with the aid of @bigwipes, & oil them. Take care of your tools & they'll take care of you #Tradestalk

— London Gas (@LondonGas) January 15, 2019
The third question looked at researching new tools, and PB Plumber was mentioned more than once as a source of inspiration, as were trade shows like Toolfair.
Always good to get to demo tools at @toolfair shows 👌😃🛠 #TradesTalk

— Draper Tools (@drapertools) January 15, 2019
Trade shows, retail displays and @pbplumber generally 😋👍 #TradesTalk

— Kevin Walker (@bitznpcz) January 15, 2019
Unfortunately tool theft is a huge problem and responses to the next question reflected this.
Five times ☹ #TradesTalk

— Pete Brown 🚿🛠🔥 (@GasSafePete) January 15, 2019
It's awful seeing how regular it is too, we're seeing tradespeople post far too much about this. The #noVANber is a great campaign. #TradesTalk

— KEAH Products Ltd (@KEAH_Ltd) January 15, 2019
Lending tools to friends and family was another hot topic – with most saying they avoid it at all costs!
A5) #TradesTalk yes!! ive lent brushes and sanders and have come back hard and all my festool discs used up! never again!! lol

— Jennifer G Interiors (@Jenthedecorator) January 15, 2019
The chat then moved on to the trades' favourite tool brands, with a huge variety and lots of interesting discussion.
A6: Kane for the Analyser, @BahcoTools Adjustables and @Knipex_Tools grips, @weratoolsuk maintenance kit, they are my essentials, any after that is no holds barred #TradesTalk

— Damon Blakemore (@DamonBlakemore) January 15, 2019
A6. Mainly @DEWALT_UK, but now use @BoschPro_UK and just got hooked on @Festool_GB . Each brand has it's strengths. Others I use a lot are @TwoFussyBlokes and @AxusDecor #TradesTalk

— Bourton Handyman (@BourtonHandyman) January 15, 2019
Opinion didn't vary as much for the next question, about buying second-hand tools.
A7: Some things you need to spend the money on to know you're getting quality. Like electronics, don't buy secondhand. You don't know how it was treated before, they can lie about its history, and yeah, if the price is too good to be true, it is def stolen

— White Bear Plumbing (@BearPlumbing) January 15, 2019
A7. Never again! I did not realize when I was younger that buying second hand tools means you are encouraging theft! A big NO NO! I'll have go and at anyone I know who has bought second hand. I'm weird like that. #TradesTalk

— Dyfed Roberts (@DyfedRoberts) January 15, 2019
The discussion also looked at new tool discoveries that other tradespeople might find useful.
Got an @drapertools crimp tool for terminals. Helps out alot with dodgy connections

— Richard Colby Richard Colby Plumbing & Heating Ltd (@r_colby_85) January 15, 2019
They are brilliant used them a few years ago on a solar contract 👌💪 pic.twitter.com/Qz9CUbTkjV

— Ben "changing radiators" smailes (@SmailesBen) January 15, 2019
And the final question was on the subject of the tool-obsessed!
https://twitter.com/wdrpaint/status/1085412265409556480
If you'd like to talk to other trades about tools and much more besides, #TradesTalk takes place every Tuesday at 8pm on Twitter. And there's a special #TradesTalk Live taking place at PlumbExpo at Alexandra Palace on January 30th.