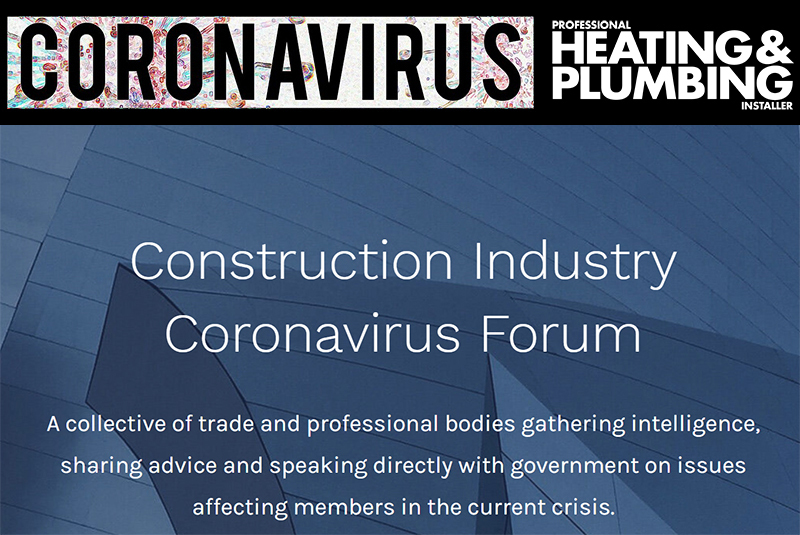 Members of the Scotland and Northern Ireland Plumbing Employers Federation (SNIPEF) executive team are playing key roles in the vital work being done by Scotland's Construction Industry Coronavirus (CICV) Forum to represent the industry's views on the COVID-19 crisis to the Scottish and UK governments, the media, and all other engaged parties.
The influence of the Forum is substantial, with over 24 organisations on board as full members to help play their part in the recovery of the industry. In addition, some 30 other organisations are also represented on the Forum's seven sub-groups which help shape guidance and support on mission-critical aspects such as employment, health and safety, skills, client liaison and future planning.
Among the most prominent players is Fiona Hodgson, Chief Executive of SNIPEF, who is not only a leading member of the main Forum board, but also of its commercial, future planning, skills and client sub-groups.
Another member of the skills and health and safety sub-groups is SNIPEF's Technical and Skills Manager, Martyn Raine.
In addition, SNIPEF's HR Manager, Stephanie Lowe, is on the Forum's employment sub-group, SNIPEF communications manager, Alicia Allen, is a member of the CCIV Forum communications sub-group and Dale Thomson, SNIPEF's Training Manager, sits on a sub-group concerned with the Health & Safety provisions for apprentices.
More than 80 individuals are involved with the influential group, representing 54 different official construction bodies from across Scotland and beyond, including government agencies, private companies, professional services firms and training bodies.
Ms Hodgson said: "The past 10 weeks have been hugely demanding for all of us who represent the many organisations within Scotland's construction sector.
"Covid-19 is, we hope, a once in a generation event, and it has been humbling to see how our sector virtually in its entirety, has organised and focused collectively to meet the many challenge it presents.
"I am proud of the way my SNIPEF colleagues have played their part throughout; all of us determined to give our utmost to pave the way for a rapid, and safe return to work. This in turn, will allow us to protect both jobs and the economy as well as building a brighter future for all of us."