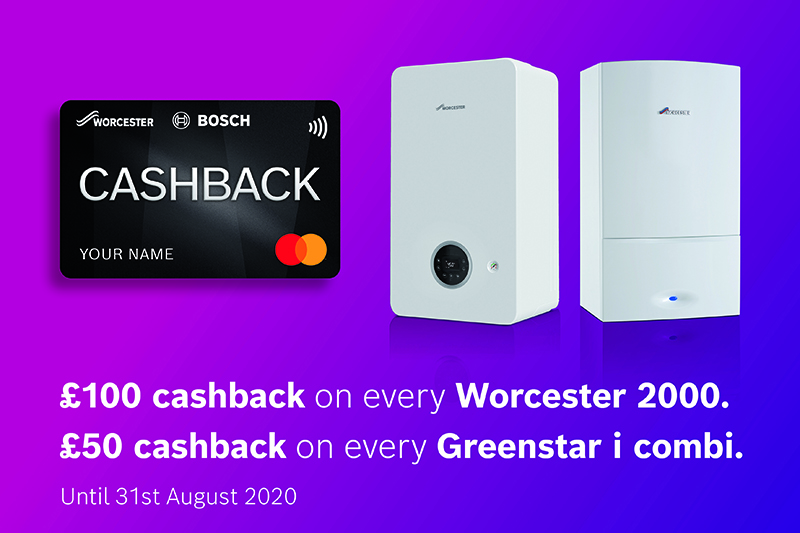 Worcester Bosch has expanded its installer cashback deal to include one of its most popular boilers, the Greenstar i combi. From 24th June, installers can claim £50 cashback on every Greenstar i combi boiler purchased up until 31st August 2020.
This offer comes just weeks after the introduction of a £100 cashback offer on the brand's price competitive Worcester 2000 boiler range, which made the product even more accessible.
The company has extended its cashback offering during a time where homeowner cashflow may be more limited and to help installers build their businesses back up.
With positive feedback on the recent Worcester 2000 offer, the company's Greenstar i combi boiler was added to the promotion to allow installers to benefit from a wider number of potential customers.
The offer is open to all installers across the UK and Ireland, with the cash being added onto a Worcester Bosch branded Mastercard via its cashback promotions page. Installers can claim this offer on every Greenstar i combi boiler purchased and registered at www.worcesterboschpromotions.co.uk
The offer follows the recent launch of the company's Safe in your Home Installer Commitment, a pledge that installers can sign-up to for free and enables them to receive a pack of digital and physical tools to help them undertake work in customers' homes safely during these unusual times.
Vic Billings, Director of Marketing at Worcester Bosch, said: "We want to support installers who are building their businesses back up during these challenging times in as many ways as possible. Through applying this offer to not only the Worcester 2000, our most accessibly priced boiler, but also the Greenstar i combi, we hope to help installers take strides towards regaining some normality for their business."
For full terms and conditions on this offer and more information on Worcester Bosch, visit www.worcester-bosch.co.uk/promotions