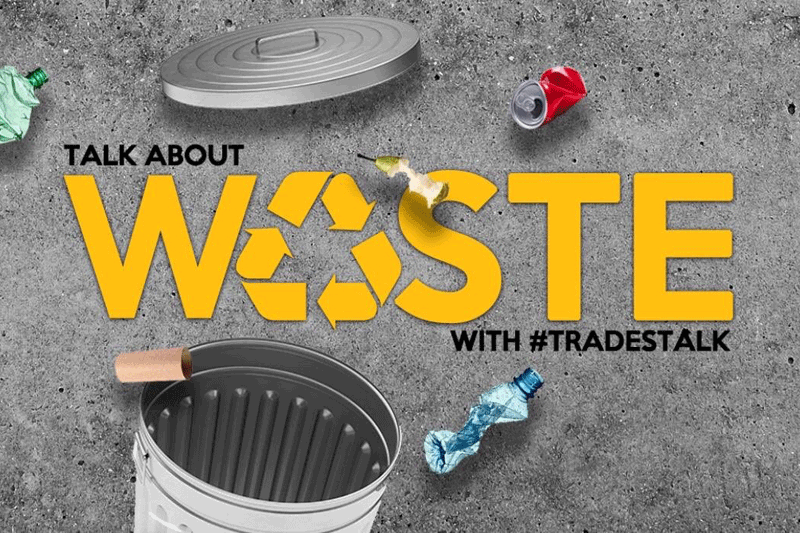 Last week's #TradesTalk discussion on Twitter was one of the most popular of the year, and it looked at the issue of waste and recycling for the trades.
If you'd like to talk to other trades, simply search the #TradesTalk hashtag on Twitter and join in the conversation every Tuesday evening from 8-9pm.
Here is our round-up of the best bits from the most recent chat.
The first question looked at how the trades deal with the weekly rubbish.
I recycle as much as possible or allow the local scrap man to take metals

— 🛠 M B Plumbing 🛠 (@mbplumbers) June 11, 2019
A1 got a really good trade waste firm who spent a hell of a lot on a top notch facility #TradesTalk

— Richard Colby Richard Colby Plumbing & Heating Ltd (@r_colby_85) June 11, 2019
We've got a bin at the office I pay for and I've got a waste carriers licence so for some jobs I can take it down the local dump. For bigger jobs I've got someone with a big lorry that will pick it up. All gets charged back to the customer. #TradesTalk

— Pete Brown 🚿🛠🔥 (@GasSafePete) June 11, 2019
Then the conversation moved on to what is the most problematic in terms of excess packaging and waste.
https://twitter.com/PLASDEC1/status/1138558668276981762
Ironmongery packages, cardboard box russian dolls! But thankfully it's all recyclable. #TradesTalk pic.twitter.com/20U2zroXvU

— Phil Edwards Carpenter (@fillyourp0ckets) June 11, 2019
Q2 I'd have to say the dreaded polystyrene in boiler packs too. Must be a better way. Also boiler spares sometimes come in ridiculous packaging! #TradesTalk

— Gary Bedford (@grbservices) June 11, 2019
The third question concerned regulation, and how aware the trades are of what applies to them.
You have to be licenced to carry waste. The fines are big if caught.

— Viva Tiling (@VivaTiling) June 11, 2019
A3- honestly, not a clue. I just take away all the rubbish I make and get rid of as much as I can at home but after this I'll be looking at skips #TradesTalk

— rowlingelectrical (@rowlingelectric) June 11, 2019
Recycle the cardboard at my merchants @CovPlumbing as they have a machine that crushes it, general waste goes in site skip

— KirbyPlumbing78 (@2StarKirbs) June 11, 2019
Then the #TradesTalk community talked about using recycled materials.
Yes, but find it hard to identify what is made of recycled materials at work #TradesTalk

— PlumbMaid (@plumbmaid) June 12, 2019
A4
Yes I do 👍 and I think if companies focused more on it they could use it to gain more customers 🤔😉#TradesTalk

— Anslow Electrical ® (@AnslowElectric) June 11, 2019
A4. If available, would possibly use but not normally considered when sourcing material. #tradestalk

— Paul Williams (@AWilliamsltd) June 11, 2019
The fifth question looked at whether a manufacturer could gain more customers with greener products. Most people said yes… with a few exceptions.
A5 Again it all depends on the price of the product. I think we would all like to do our bit to save the planet but if the products cost more then we run the risk of loosing out on work to cheaper less moral trades.

— HB Chippy (@hb_chippy) June 11, 2019
Yes, as you can probably tell its an issue I have with manufacturers! I would definitely lean towards suppliers and manufacturers that use less plastic as its the thing that gives me the most hassle for getting rid of.

— Switchlec (@switchlec) June 11, 2019
A5 Yes it would. I would like to see an exterior fixings manufacturer sell their items in plain recycleable cardboard or sell by weight. How many plastic tubs do I really need? Zero. My local @LawsonsUK stocks bulk Bolts/Washers which I use now. #TradesTalk

— Oilcanfinish Landscaping and Property Maintenance (@oilcanfinish) June 11, 2019
It might do but the product needs to be up to scratch

— Payne and Son (@PayneAndSonSuff) June 11, 2019
A5: Probably not 😄😂🤣 I love my current brands far too much #TradesTalk pic.twitter.com/wP4UcBCJ9n

— Dr Boilers 🐰 (@DrBoilers) June 11, 2019
If you have a topic you'd like to see #TradesTalk tackle, simply get in touch on Twitter.