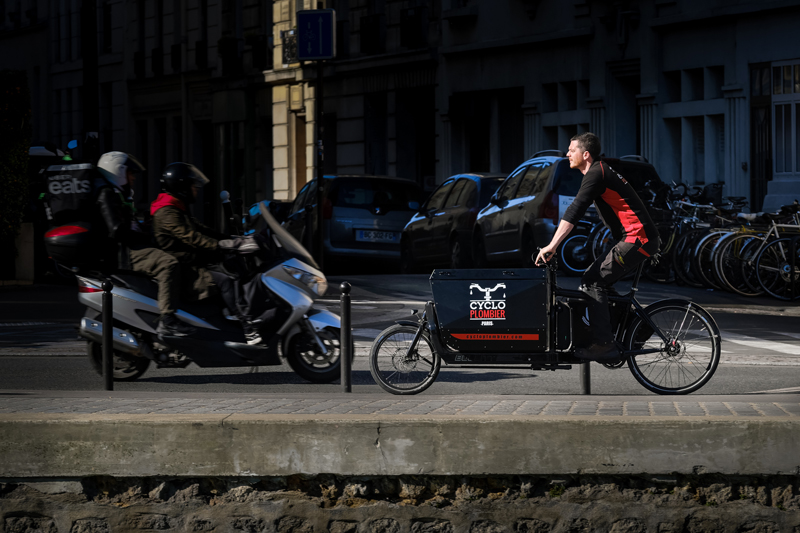 Paris's first "cycloplombier" is completely self-reliant thanks to Bosch ProCORE18V cordless tools.
15 years ago, plumber Elian Alluin left his home in Brittany and set off for Paris, where he founded his own business. "Now, demand is growing so quickly that I've had to take on staff. Not that I'm complaining. I'm planning to set up a whole fleet of bicycle-based plumbers," he declares proudly.
Elian Alluin is the first bicycle-based plumber, or "Cycloplombier", in Paris. He travels to his customers not by car, but on his cargo bike. Since starting his business, he has learned every street and every corner of the city.
How did it all begin?
"When I first came to Paris, I was traveling around by car," he explains. "A month after I arrived, I sold it – I'd realised that it's impossible to get from A to B efficiently by car here. I love cycling anyway, so I simply swapped four wheels for two. It just made sense to do the same for work. I feel free when I travel by bike. It makes me feel wide awake first thing in the morning and I get to experience the city differently every day." Alluin uses a navigation device to find the fastest route to his customers. Thanks to his work, however, the plumber has also developed a natural sense of direction in the city. "I always arrive five minutes before the satnav says I will – and definitely a lot faster than any car."
Ready for independence
Elian Alluin is on the way to his workshop. Here, he gets ready for the day. "The workshop is my starting point. Every morning I plan the day and get my tools ready here. Plumbing work and fast repairs, most of which are emergency cases, make up the majority of my work. I get the occasional extraordinary job too. Last week, for instance, I had to empty the cargo hold of a boat on the Canal Saint-Martin – it had flooded and the water needed to be pumped out. My work always relies on me having the power I need with me. I need to be certain that my cordless tools will last for a whole day of work. These high-performance batteries mean that I can work completely independently," explains the plumber, referring to the Bosch Professional ProCORE18V series batteries, as he removes them from their charging stations. "They allow me to be self-reliant – like a city-based nomad."
A small battery that packs a punch
The new series from Bosch Professional is another addition to the ProCORE18V battery range, opening up a new performance class for tradespeople. The combination of a new generation of higher capacity cells and battery design with improved CoolPack technology allows for a very compact battery with higher power output. This also makes the ProCORE18V the most compact high-performance 18V battery on the market.
For Alluin, this is beneficial for a number of reasons – it means that he has less to carry and makes his work on site more flexible and more convenient. He finds this especially noticeable when using his cordless drill/driver, the GSR 18V-60 FC Professional. This tool comes with a range of attachments, allowing him to work even in particularly narrow areas or to drill into concrete. Compact power is particularly important to Alluin in this respect. "This battery is both small and powerful – reduced to the max, you could say." What's more, the ProCORE18V series is ready for use, whatever size is required, with 4.0, 8.0 and 12.0 Ah versions on offer. The plumber also relies on another feature – he can use the batteries for a long time, even when carrying out power-intensive work. The optimised heat dissipation, provided by Bosch CoolPack technology, means that the battery has a longer service life than conventional models.
All of these reasons formed the basis for Alluin's decision to switch to the high-performance battery for his Bosch 18V professional tools, such as the GAS 18V-10 L Professional wet/dry extractor. He takes this tool along to every job, because he needs the reliable extraction its rotating air flow provides in order to extract water from floors or from blocked sinks, or simply to remove dirt and dust, in order to leave his workplace clean. The high-performance battery provides this extractor with the power it needs for longer. The same goes for Alluin's cordless site spotlight, the GLI 18V-2200 C Professional, which allows him to work in dark areas thanks to its 2200 lumen light output. This light can be adapted to any surroundings as it offers two brightness levels and five set-up angles, and can even be controlled remotely using an app. Even if he is faced with pumping out another flooded cargo hold, or when his workplace is particularly wet or dusty, he can still bring the spotlight along – it is IP64-certified and offers reliable dust and splash protection.
Freedom calling
Independent, self-reliant and free – for Elian Alluin, work as a bicycle-based plumber in Paris is a dream come true. With all the right tools packed and ready, he's raring to go. Just as he's climbing onto his bike, the phone rings – an emergency call-out. Not a problem for this adaptable plumber. He changes his route and sets off. This short job takes him over the famous hill of Montmartre and past the beautiful Sacré-Cœur Basilica. Alluin enjoys it all, the view over the city, its skyline, the hustle and bustle of tourists, the smells drifting out of the bakery across the street. It's an inspiring place to work; that much is certain.
Image: André Wagenzik, Jeschenko MedienAgentur Berlin GmbH, Bosch