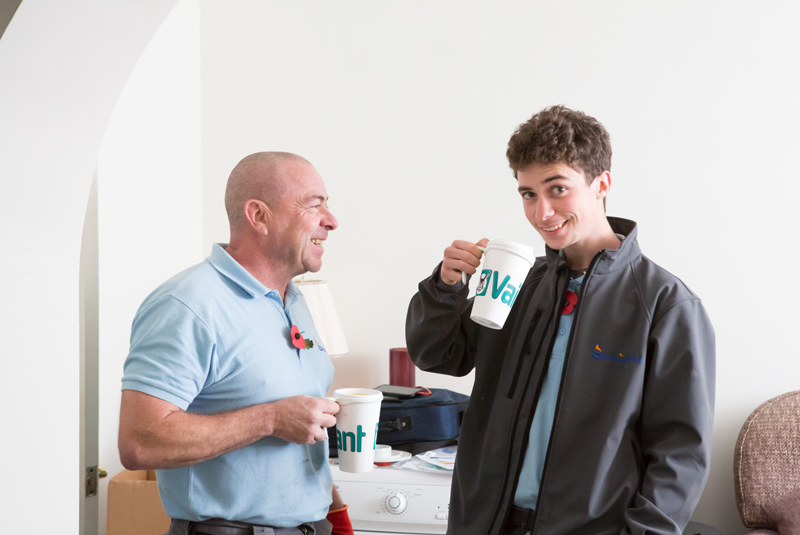 James Moore puts the questions to Danny Tickner from Samsian Ltd about life, the industry, his status as #KingOfMerch and what it's like to work alongside his son, Sam.
Tell us a little about yourself and your background in the industry? What made you want to become a heating engineer and what was your route into the industry?
Born in London 1967, I have been in the heating industry since leaving school in 1983 – from apprentice engineer to operations director for a large M&E contractor.
Before leaving school, I literally applied for dozens of jobs in the construction industry, hoping to get a start as a carpenter. One or two YTS (youth training schemes) came along and, although I wasn't particularly fussy, nothing I'd been offered really floated my boat.
My father worked as a commercial heating fitter for Planned Maintenance Engineering Ltd, an established H&V company in Battersea. I often worked with dad in the school holidays, fetching and carrying, and must have picked up the odd thing here and there because I secured a position as an apprentice with the company in 1983, after impressing the interviewing MD by sketching out a domestic Y plan OV heating system.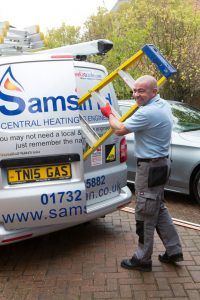 Studying BTEC building services on day release for three years at South Thames Technical College in Wandsworth, I pretty much worked with one engineer for the whole of my time served as an apprentice – covering installing, maintaining, fault finding and repairing controls, pumps, oil and gas combustion and ventilation. The controls and fault finding side of things was of particular interest to me as I was always taking apart something electronic at home to see how it ticked.
What do you believe makes Samsian Gas different from other companies out there? What are the main services you offer?
In 2010, a little disillusioned with the contracting industry, I decided to incorporate Samsian Ltd and start domestic gas servicing. My main focus then was (and still is) total customer satisfaction and growing my business organically from word of mouth and targeted advertising.
I realised quite quickly that my new private household domestic customers reacted incredibly well to the professionalism and efficiency being shown to them, together with the unique corporate image I presented for a 'one man band'. Initially carrying out service and repair, Samsian Ltd expanded gently into installation – drawing once again on the knowledge I'd gained in the contracting world. Negotiation, sales techniques and presentation and accuracy of quotations etc put me ahead of my competition.
What's your marketing strategy for the company? Is social media used and how useful do you find it? What are the benefits of the merchandising you do? Do you have any advice for fellow installers looking to set up their own company and be successful in the industry?
Although merchandising our brand is clearly very important, I believe familiarisation and targeted advertising is key. Trying to see all marketing from the recipient's point of view and using trusted trade associations' marketing power too has been beneficial.
"Sam's advice to apprentices and young engineers is this: don't expect everything to fall in place immediately, think long term, knuckle down, listen and learn from your mistakes. Understand that you will be wrong sometimes too!"
We actively use one or two social media platforms, although not to generate work as such – some of the general public, however, expect an online presence these days and this is one reason we use it. It's important to monitor the platform, not answering a question or enquiry quickly could have quite a negative effect on the account. Sharing information with other trades can be a fantastic way of staying in touch with things out there too – from seeing the latest tool trial to hearing about the next big event. Another thing that seems to be getting more popular is a desire to showcase one's work. Love it!
Recognised as the #KingOfMerch by fellow engineers, manufacturers and merchants on Twitter, we clearly love our merchandise. Branding and being recognised as many times as possible is a fundamental part of our marketing strategy.
In terms of advice, two things stand out – you never stop learning and the customer is always right!
What's it like having your son work alongside you? Does he have any comments or advice for fellow apprentices/young engineers?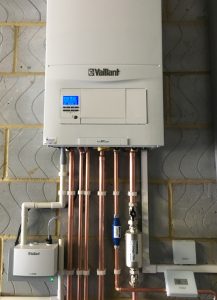 Being able to offer my son Sam a position within the company as an apprentice heating engineer is a dream come true. His desire to learn the industry is clear too and that makes me a very proud dad and employer indeed. My daughter Siân also helps out in the office at busy times and her marketing ideas are invaluable. And that's also where the company got its name – SamSiân.
Sam's advice to apprentices and young engineers is this: don't expect everything to fall in place immediately, think long term, knuckle down, listen and learn from your mistakes. Understand that you will be wrong sometimes too!
What do you do outside of work?
Living and working in the same village for so many years – as both a gas engineer and now retired fire-fighter – my wife and I have a large circle of friends so socialising covers a lot of the spare time, as do mini breaks abroad, but I do have a passion for clay pigeon shooting, IT and gadgetry when time allows. Not forgetting my passion for #merch of course.
www.samsian.co.uk
Twitter: @SAMSIANGAS