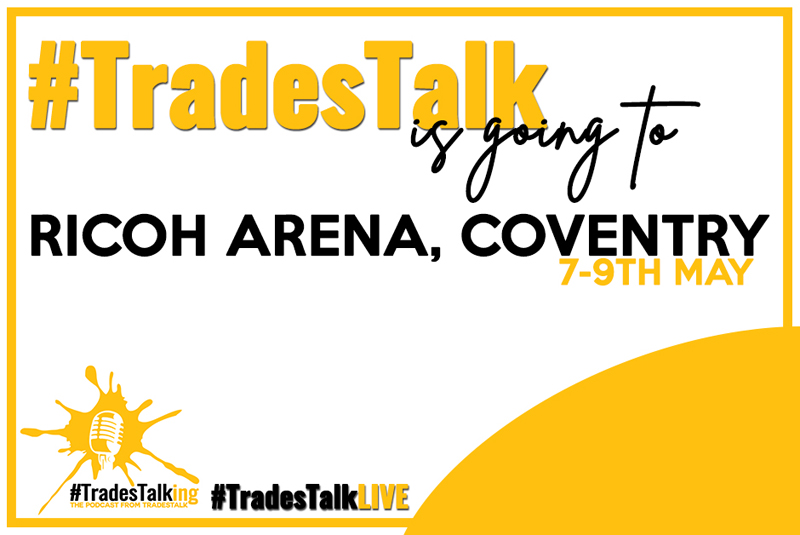 This week's #TradesTalk chat on Twitter was about trade shows and why they are a great way to find out about the latest product developments as well as pick up some bargains.
You can catch up on the discussion by searching the hashtag on Twitter, and here is our round-up of the best bits.
The first question looked at the main reasons the trades go to events.
You can find out if the manufacturers have any new stuff coming out, and it's a good place if you've got any questions that need answering. Deals, pens, merch. Crack. #tradestalk

— John Taylor (@Jtjohnftaylor) April 30, 2019
Meet some of the fantastic people i chat to every day on twitter and check out new products that are coming out or out now that Iv not seen. #TradesTalk

— Keith Harrison (@HarrisonHeating) April 30, 2019
To meet like minded people and see the new innovations chat buy new things listen to talks from interesting people brilliant events highlight of my year

— Andy Cam (@CosyWarmPlumber) April 30, 2019
Next the discussion looked at the impact social media has had on trade shows.
A2 ive found out about them. I didn't know that so many happened. #TradesTalk

— S.N.L Home Repairs (@snlhomerepairs) April 30, 2019
A2
It's a chance to meet up with manufacturers and people you have spoken to throughout the year on twitter 😁👍#TradesTalk

— Anslow Electrical ® (@AnslowElectric) April 30, 2019
A2 yes definitely more of an open minded to what I go and see and like the sharing that goes on with social media #TradesTalk

— James B (@JamesB177) April 30, 2019
The third question looked at the tricky task of fitting in shows to a busy work schedule.
No…. I do 3 a year!@toolfair@PhexShow Chelsea
And @Installer_Show
Brilliant chance to catch up with everyone off here for a load of beer and a great crack#TradesTalk

— KirbyPlumbing78 (@2StarKirbs) April 30, 2019
https://twitter.com/GBridgeford/status/1123308276978995200
A3 #TradesTalk so far we have been unable to make any shows due to commitments in the diary but we will be looking to fully commit to penned in dates for 2020. Yes I know we arent even fully through 2019 yet! 🤦‍♂️ events come around fast though

— The Instant Kitchen Co. (@TIKC_UK) April 30, 2019
A 3 Clear the diary like you do for a training course. #TradesTalk

— Dyfed Roberts (@DyfedRoberts) April 30, 2019
Then the #TradesTalk community talked about whether they buy new kit at shows, or purely use them as a chance to have a look before buying at a later date.
Q4 Yeh I always end up buying something I don't need 😂😂 hope knipex is there again this year. Need to get some more plier wrenches. Can I haggle down the price? #TuesJay #TradesTalk

— Jay (@warmyourhome) April 30, 2019
https://twitter.com/EarthNicks/status/1123316080309620737
A4- I would definitely make a purchase at the @bigwipes stand, you can never have enough of those. If the price was right on a product I could use then I definitely would #TradesTalk

— rowlingelectrical (@rowlingelectric) April 30, 2019
Advice to show organisers was the next topic…
A5. Prices; people on the stands that know what they are selling and want to be there ! Few freebies and time to talk that and being able to try the tools and products. And a big sign saying free bacon roll this way would be useful! Places to mingle #TradesTalk

— James B (@JamesB177) April 30, 2019
A5
Maybe more samples of the actual products to use in the field instead of pens/pencils 🙄
I must have 10 years worth now and I will not be excepting any more 😅#TradesTalk

— Anslow Electrical ® (@AnslowElectric) April 30, 2019
Listen to what people want and get the manufacturers they want to exhibit #TradesTalk

— Richard Colby Richard Colby Plumbing & Heating Ltd (@r_colby_85) April 30, 2019
And the final question looked ahead to next week's Installer event in Coventry.
A6: Clearly seeing all the lovely people and the amazing stands! Finally getting some time to walk around instead of being pathologically late… #TradesTalk pic.twitter.com/AXlwgxL98o

— Dr Boilers 🐰 (@DrBoilers) April 30, 2019
Make sure you come and say hello on the @weratoolsuk stand
We are all really nice 👍😇 and buying isn't compulsory ( Although it helps keep me in work ) 😲😳#TradesTalk pic.twitter.com/in5muY1hYH

— Barraboy 🏴󠁧󠁢󠁥󠁮󠁧󠁿🇬🇧🇪🇺 (@SamArmstead) April 30, 2019
The #TradesTalk team will be at Installer next week, do pop along to the stand and say hello.