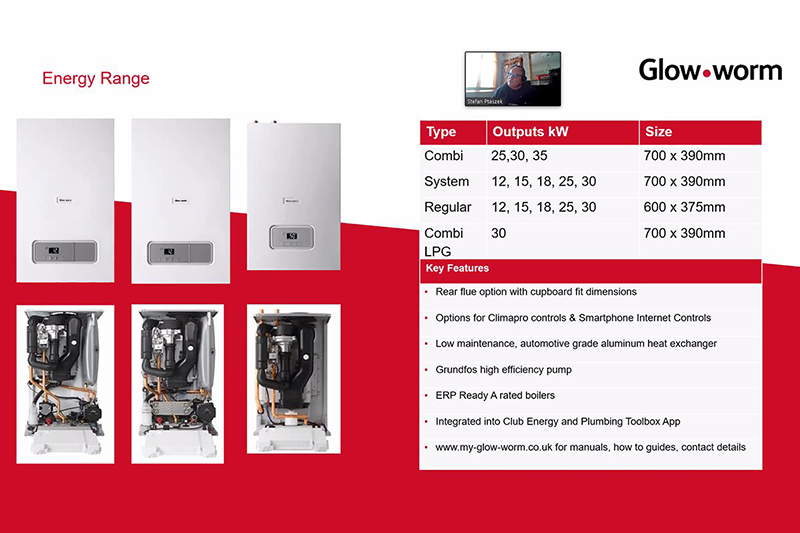 Stuart Duff attends a Glow-worm online training course.
From family catch-ups to virtual pub quizzes, lockdown has seen an inexorable rise in the use of video calling. Whether you're checking in on a relative or trying to work out which TV show had the same theme tune as Give Us A Clue*, the chances are you've already used Zoom.
Vaillant Group has embraced the technology for rather different reasons across both the Vaillant and Glow-worm brands. While it's not possible for installers to make the trip to one of its training centres, it's delivering that training straight to your home.
There's a raft of product and business information on offer to suit the whole spectrum of brand and industry knowledge. The course I attended, Glow-worm's Energy product overview, did exactly what it said on the tin – presenting a comprehensive run-through of the range.
As thorough and all-encompassing as it was, it never felt unnecessarily complicated or bogged down in minute detail. Expertly delivered by Stefan Ptaszek and Andy Hayes, it was a seamless journey through the boilers, controls, flueing options and much more. It's a perfect introduction to the brand if you're not a regular installer. For those who are Glow-worm savvy, it works equally well as a refresher course.
More than a dozen installers attended this particular session, and the chat feature on Zoom allowed them to ask questions without disturbing the flow for others. Numbers are restricted for each course but there's a packed timetable so you shouldn't have any trouble finding a date and time that works for you.
The obvious pitfall with virtual training is the lack of hands-on learning – and that's an insurmountable issue right now. A 60-minute session in the company of experienced trainers is certainly the next best thing, and it's great to see manufacturers offering a wide range of courses to support their installers.
*in case you were wondering, the answer's Grange Hill