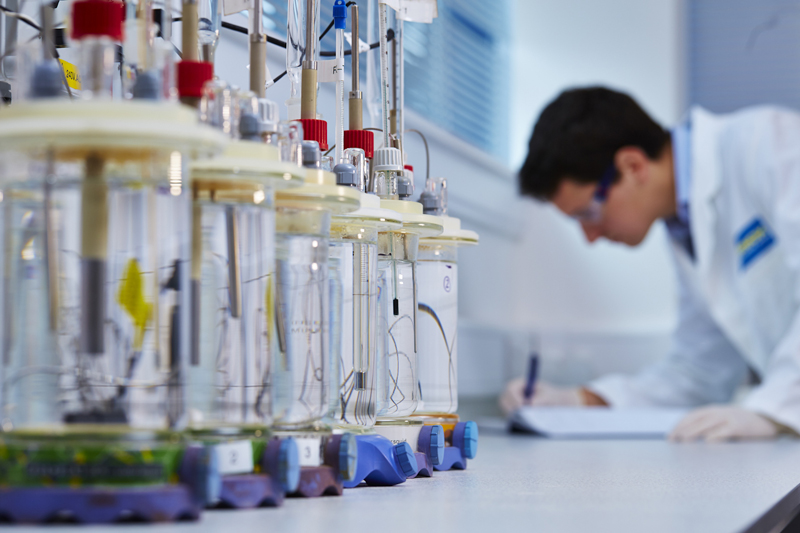 System treatment has come a long way in recent years, with ever-improving technology creating more efficient products that are easier to fit, dose and maintain for engineers. Fernox continues to invest and innovate in this field, as PHPI reports from a visit to its testing facilities in Woking.
In order to ensure its installer customers receive reliable and quality products, there's plenty that goes on behind the scenes at Fernox. Starting life in 1964 as a water treatment company, the business has invested heavily in product development since that time, now manufacturing everything from power flushing pumps to filtration devices, to chemicals.
While heating engineers will be familiar with the Fernox family of filters and chemicals – the TF1 Total Filter, TF1 Omega Filter and the recently launched TF1 Sigma Filter to name a few – many won't be aware of the investment that goes in to developing and testing the range.
Quality assured
Richard Wall, Technical Director at the company, comments: "We work extremely hard to ensure all of our products match the ever-changing regulatory developments in the sector. And with the chemical side of things, you have to be absolutely sure that the pH balance is correct. If it's off, it's not just the metal components in the filter that could be damaged – you also have to think about the rubber O-rings, plastics and oils in the rest of the heating system and boiler."
A short tour of the facilities on show in Woking demonstrates this commitment to quality. The company's range of chemicals are initially tested here, and then scaled up and developed in Bangalore, India, before eventually being manufactured for sale in Oxford. Much of the filter testing, however, is based at the Surrey headquarters, where rigorous testing takes place on an automated filter test rig, which is capable of pressure cycling between 0 and 10 bar, as well as temperature cycling between -5 and 90°C.
The importance of high standards is clear, and it is surprising to hear there is no industry standard for testing filters. While Fernox is campaigning for such a standard to be put in place, the manufacturer is able to offer installers peace of mind with independent verification from BSRIA, running a testing process that goes far beyond what most filters will be subjected to on a daily basis.
The company also makes clear that support to engineers is always available. The Water Quality Test service on offer allows installers to send off samples to the labs, where a team of experienced chemists can help diagnose and report back on the quality of the system water, check if it has been adequately treated and identify what, if any, issues there are in the sample water that might cause future system problems. Samples can be submitted via the Water Quality Test App to make the whole process faster and easier for the installer.
The newly-refurbished training academy, also based in Woking, is situated directly next to the development labs, so that engineers can witness the science and technology in action for themselves, while recapping the importance of water treatment.
It goes without saying that keeping a clean and efficient heating system is integral to the message Fernox continues to push towards the industry. Water treatment, via a mixture of chemical dosage, efficient filtration units, and power flushing where necessary, helps to guard against corrosion, contamination, debris and limescale – problems that will ultimately lead to the costly breakdown of your customer's heating system or boiler.