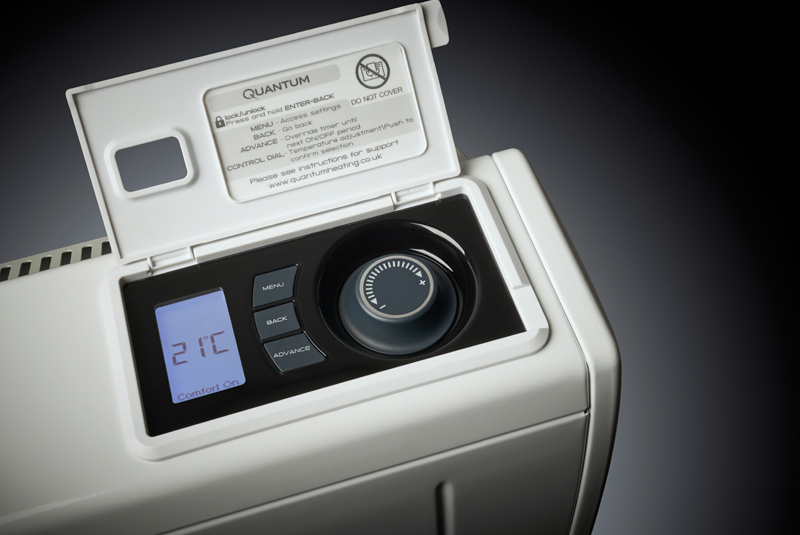 The Internet of Things continues to transform the way in which we run our homes and businesses, but where do the biggest opportunities lie? Christian Hadley, Head of Product Marketing at Glen Dimplex Heating and Ventilation, considers the real benefit of connected devices and examines why heating installers are well placed to take advantage of the continued drive for inter-connected devices in the home.
The Internet of Things (IoT) is no longer just a buzzword in the boardroom of blue-chip companies, but a topic of conversation in our homes, on the high street and in the pub too. It refers to the addition of tiny chips into everyday objects and gadgets, which allow us to send and receive data between these interconnected devices.
On an industrial scale, IoT is revolutionising industry. The birth of the 'smart factory', with inter-connected plant at every stage of the production line, is improving productivity, reducing wastage and driving the efficiency of our manufacturing sectors in particular. But there are huge opportunities in the home too – from the growing trend for personal assistants, to innovative heating and climate controls.
Finding the value in IoT
The possibilities of IoT are almost limitless. In 2014, there were an estimated 5.4 billion connected devices worldwide and by 2020 this is expected to rise to 31 billion. By 2030, some analysts predict 125 billion connected devices in operation. It's easy to see the impact these will have on our everyday lives.
A quick google search shows some of the products already available, with plenty of gadgets ranging from the dubious to the downright ridiculous. These include a smart water bottle that glows to remind you to reach your 'hydration goal', and even an egg tray that tells you which egg is the oldest and when you need to restock to avoid missing breakfast!
The real value of IoT, however, lies in making the most of connected devices to reduce energy used in the home, thus supporting our carbon reduction targets whilst cutting costs for the user. And this is where heating installers can make the most of business opportunities as the smart revolution continues to grow.
Intelligent appliances
App-controlled heating is nothing new, but modern appliances have greater functionality than ever before. By linking individual electric heating appliances to a central hub, for example, users can take advantage of simple controls to ensure comfort whilst maximising the efficiency of the home from a single control source. Installers can also tap into remote diagnostic opportunities, saving time and costs on maintenance jobs – and all this before you even consider the benefits of intelligent features such as open window detection and anticipatory control.
Regulatory change driving innovation
In the electric heating market, there is another driver which is forcing manufacturers to innovate. Lot 20 of the EU's Energy Efficiency Directive was introduced at the start of the year and it sets a minimum energy efficiency standard for all 'local' room or space heating products – those that generate heat in the location in which they are situated. This includes electric storage heaters, panel heaters and high heat retention heaters.
Products have been redesigned with intelligent features from a series of possible inclusions, all of which 'score' differently according to the 'correction factor' specified within the regulations, helping manufacturers to meet the required standards.
The greatest gains to installers and their customers are from those products which offer IoT compatibility, ensuring they can improve efficiency now and in the future through intelligent, adaptive controls and enhanced connectivity.
Enhanced capabilities
Space heating devices are not the only appliances that can benefit from IoT technology to improve home comfort. As the trend continues for more insulated homes, the value of energy efficient water heating and ventilation becomes increasingly evident. We can expect smart water cylinders, ventilation and air treatment products such as Mechanical Ventilation & Heat Recovery to be connected to a whole-house heating and comfort system in the near future, not forgetting the energy source itself like a boiler or heat pump.
So the benefits – and the opportunities for installers – are increased tenfold when you apply the same technologies to heat networks, where a multi-dwelling building is served by a central heat source – seen by many as the most viable solution to help meet the UK's strict energy targets.
Exploiting opportunities
Across the home, the Internet of Things is changing the way we use devices and it presents a huge opportunity for heating installers. We firmly believe control of electric heating and ventilation are defining elements of a connected home. With devices that are already wired into every room, that are capable of monitoring that environment and also can be independently controlled, we are in a prime position to deliver on the massive expecations for home IoT systems.
As a manufacturer, we will continue to innovate, but the important thing for any forward-thinking installer is to start communicating the real benefits of connected devices to their customers. One thing is for sure; a homeowner will be more interested in learning about how to improve home comfort and cut their energy bills, than they will be about understanding which egg goes off next.