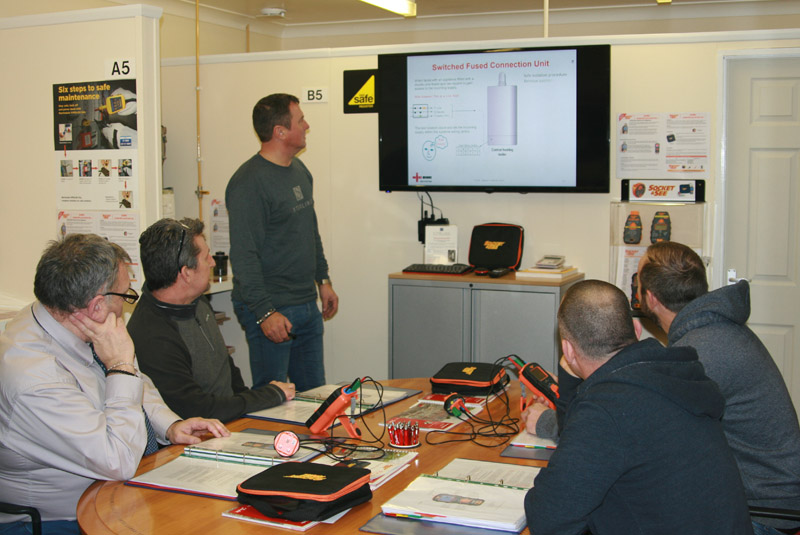 PHPI speaks to NICEIC Certification about its electrical training package for heating engineers.
There will be many occasions when a gas engineer is required to work on something that requires a bit of electrical knowledge. It could be something as simple as safely isolating the electrical supply feeding a combination boiler prior to installation (or servicing). Or it could be the more comprehensive safety checks required when fault finding and/or replacing electrical controls and components.
Either way, when it comes to dealing with electrics it is vital that all gas/heating engineers have the necessary skills and training to ensure they are working safely, have the ability to diagnose faults and correctly replace any controls and/or components with confidence.
To this end, NICEIC Certification has developed a comprehensive training package specifically designed for gas engineers who work on electrical systems within gas appliances and their external control systems.
The "Electrical Testing and Fault Finding for Gas Engineers" package is for individuals who need to demonstrate competence when it comes to working on the testing, fault-finding and commissioning of gas appliances with electrical control systems. This course is ideal for experienced gas and heating engineers who want to improve their knowledge and develop additional skills which will help them build customer confidence towards their business.
Courses
There are two and three day course options:
The two-day option covers the category of wet central heating boilers and their control systems
The three-day option covers wet central heating, ducted air heaters, cookers and their control systems
The package consists of four modules and can be completed as one full course or split individually, depending on specific requirements. Each module has been specifically designed with gas engineers in mind.
Course attendees must hold current and valid ACS gas certificates. As a minimum, learners must hold CCN1 and appropriate appliance category certificates.
Installer questions
What is the ETFGE Course For?
This course is for registered gas engineers. It will give them the confidence to work safely and competently on electrics for a variety of systems and appliances within the gas industry.
What are the main benefits of undertaking the course?
The candidate will obtain skills that will allow them to carry out fault finding on electrical systems. It will enable them to undertake control/component replacement on gas equipment and become competent in using a DLM PRO multi meter within a real world environment. The DLM PRO multi meter allows users to check earth loop impedance and to carry out safe isolation as per HSE guidance.
What am I going to learn?
You will learn how to fault find in a methodical manner. Attendees will also learn how to use a multi-meter and gain an understanding of schematic and functional flow wiring diagrams on gas systems and equipment.
How is this going to help me and my business?
Attendees will be extending their skill base. They will be able to fault find with confidence and carry out a higher level of first call job completion. They will also have the confidence to work safely and spend less time speaking to manufacturers for assistance. It will improve the range of skills that you can offer customers, so improving the reputation and credibility of your business.
Where can I take this course?
NICEIC has several Approved Centres across the UK currently offering this course. They include:
Gastec CRE, Cheltenham
Sterling Assessment Services, Corby, Northampton
NICEIC Training, Chesterfield
Somtek, Wishaw, Lanarkshire
Contract Heating, Edinburgh
North West Training Council, Bootle
For more information, contact NICEIC Certification to find your local NICEIC Approved Centre or visit: www.niceic.com