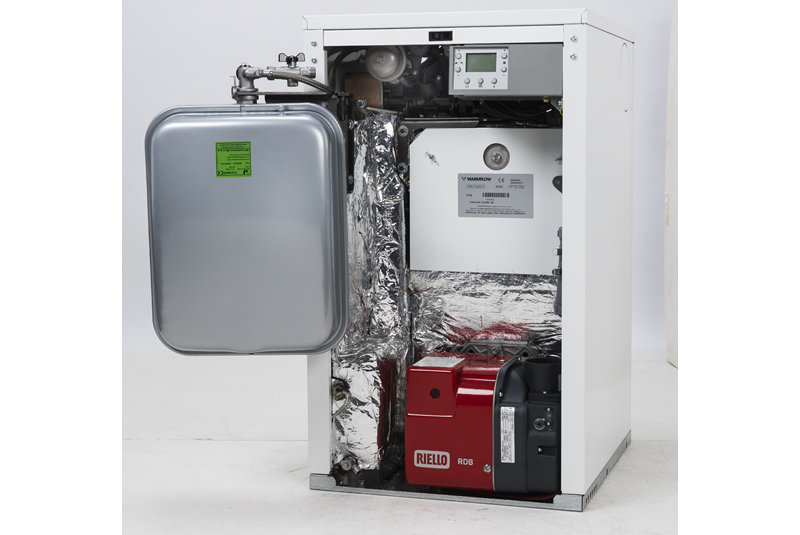 PHPI flew over the Irish Sea to find out more about Warmflow's significant recent investment, which also happens to coincide with the company's 50th anniversary in 2020.
"Belfast has changed beyond recognition over the last 15 years," muses Brian Beattie, Head of Sales and Marketing at Warmflow, as we drive through the city. Thanks to a reduction in violence from The Troubles, both internal and external investment has significantly changed the face of Belfast, which has welcomed the introduction of modernised buildings and an impressive array of tourist attractions – visitors will find themselves entertained with the Titanic Museum and Game of Thrones set, while the picturesque Giant's Causeway is just an hour's bus ride away.
Though it is impossible to ignore the historic tensions that starkly divide hotspots – murals, peace walls and emotive propaganda remain – it is impressive to witness how the new infrastructure seamlessly blends with the old. Traditional, independent pubs positioned next to modern high-rise five-star hotels are commonplace.
Just 10 miles south of Belfast lies the head office of Warmflow, in Lisburn. With a recent £4 million injection into the business, covering everything from state-of-the-art manufacturing equipment to investment in a new portfolio of products, parallels between the manufacturer and the nearby capital are easy to make.
In 2020, the company will have been operating as a manufacturer and supplier of oil-fired boilers for the past 50 years and the investment has coincided nicely with this, as it looks ahead to the next half a century.
Family run operations are routine in the plumbing and heating sector, and Warmflow is no different. The company has been family owned since its inception, while it demonstrates a strong commitment to the local community. Many employees have notched up well over 10 years on their time sheets and the business is involved in numerous charity initiatives around the local area.
Back in England, the manufacturer has also invested in its Telford base. Brian explains: "We're working hard to ensure all our installer customers have access to excellent support mechanisms. The technical advice team are all experienced engineers, so they've been on the tools – there won't be a problem that they haven't already come across. Customers are always pleased to hear we have no filter options when ringing up, meaning they will come straight through to an experienced advisor to ensure we get any queries sorted as quickly as possible. We've also launched our Installer Connect scheme this year to show further commitment to our customers."
The Installer Connect scheme is Warmflow's new web-based loyalty scheme. Once an engineer has bought and installed a boiler, they simply need to register online to build up points on their account. And as you'd expect, points mean prizes, with everything from branded soft-shell jackets and tools, to free boilers up for grabs. For those installers who aren't familiar with the manufacturer's product line, the company also offers training courses by OFTEC registered trainers at partner sites for its oil and renewable products.
Invest to innovate
Not stopping at investing in its facilities, Warmflow has coincided its golden anniversary celebrations with a completely new-look range of products. "Over the last couple of years we've invited over 400 installers to our HQ in Northern Ireland where we've discussed and listened to feedback on what engineers like, dislike, and need from our boilers. The new Warmflow Agentis oil boiler range is the result. We've designed them with installation and service engineers in mind, making them reliable and easy to install and service," adds Brian.
The portfolio – Agentis happens to be Latin for efficient and powerful, in case you were wondering – includes internal, external and boilerhouse oil boilers and offers a range of outputs between 15-44kW. The business is particularly proud of its internal and external combi Agentis boiler, which has a hinged 24ltr expansion vessel with easy access to internal components, reduced moving parts, Riello low NOx burner, a factory fitted DHW expansion vessel and pressure reducing valve, and much more besides.
While the company is of the firm belief that the oil industry is not going anywhere soon, its updated renewables range, under the brand of Zeno, also demonstrates a commitment to the once-again growing heat pump sector. The range features a mixture of air and ground source heat pumps, as well as biomass wood pellet boilers.
Brian comments: "While we still see a future in oil, the new Zeno renewables range shows our commitment to installers who will likely need to be thinking about developing their expertise in the renewables sector, as government rhetoric continues to move that way. Our air source and ground source heat pumps have had a complete redesign, operate efficiently and quietly, while also offering homeowners the benefits of government grants.
"As well as this, products in our oil boiler range are compatible with biofuels, though the jury is still out on which is the best route to take with this area. If installers are interested, then we'd certainly advise contacting our technical support team to help talk them through the specifics of the job."
A golden anniversary always offers the chance for a company to look back at its successes over the past 50 years, and it is clear Warmflow is proud of its heritage, maintaining close ties with the local community and installer customers alike. Yet the business is not resting on its laurels, as it looks ahead to the next 50 with a plethora of new products and support to offer engineers going forward.
Professional package
The new Warmflow Agentis external pumped, external system and combi boilers are available to buy as standard, or as part of a 'Professional' package. Included within this Professional package is roughly £250 worth of factory fitted extras, such as an integrated Adey Magnaclean pro 2 filter, and a pre-wired Grundfos circulating pump. The company says the Professional package saves around two hours of labour during the installation process.