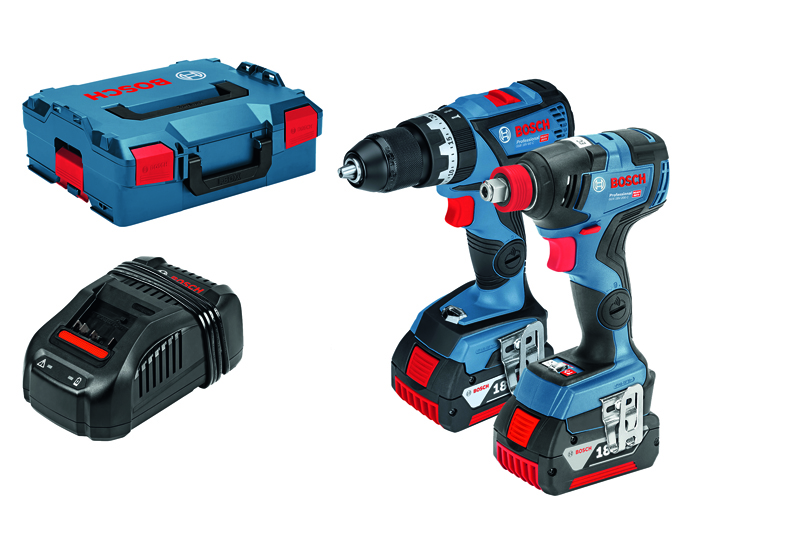 PHPI gets the lowdown on the range of 18V power tools available from Bosch Professional, and offers you the chance to win a high-spec Dynamicseries Twin Pack.
For those of you who dream of a cordless jobsite, it's time to start or expand your collection of Bosch Professional 18V power tools. Bosch has put together a larger range of Twin Packs and Combo Kits than ever before, making its equipment more affordable to buy and more convenient to carry.
The kit gives you easier access to the Bosch Flexible Power System, which covers a huge catalogue of fully compatible 18V products. You can use the same batteries and chargers for all 18V Bosch Professional tools, including any older models dating from 2008 onward.
Quality and choice
Each product is robustly constructed, engineered for high capability in the workplace, and ergonomically designed with a compact shape, low weight and comfortable grip.
Within the Bosch line-up you'll find models ideal for specific heating and plumbing installation needs. They are broadly divided into the Bosch Lightseries, Dynamicseries and Robustseries to help you select.
Along with the extensive choice of drills and drivers, the manufacturer offers a wide variety of rotary hammers, angle grinders, saws, versatile multi-cutters and more. 18V compatibility also extends to measuring devices, worklights and other cordless aids.
Bosch Twin Packs contain two power tools, as well as batteries and a charger, neatly stowed in a Bosch L-BOXX. This durable but lightweight case, with a strong handle, attaches to other L-BOXXes – through a simple one-click connect and disconnect mechanism – for easy carriage and storage.
Combo Kits offer four, six or eight items, contained in a Bosch LBAG+, designed for durability and convenience.
Win a Bosch Twin Pack
There's a high-spec Bosch Dynamicseries Twin Pack waiting to be won in our easy-to-enter competition. A good combi drill and impact driver are essential to every professional heating and plumbing installer's tool set – and this kit is much more than just good.
Both the GSB 18V-60 C Professional Combi and the GDX 18V-200 C Impact Driver/Wrench have brushless EC motors for increased performance, battery runtime and tool lifespan. They are also 'connected ready', so with the insertion of a Bosch Bluetooth connectivity module you can gain all the benefits of remote adjustment and data transmission.
The pack is completed by two 18V 5.0 Ah Professional Batteries, a GAL 1880 CV Charger and an L-BOXX.
To be in the draw, enter your details below before June 30th 2019: