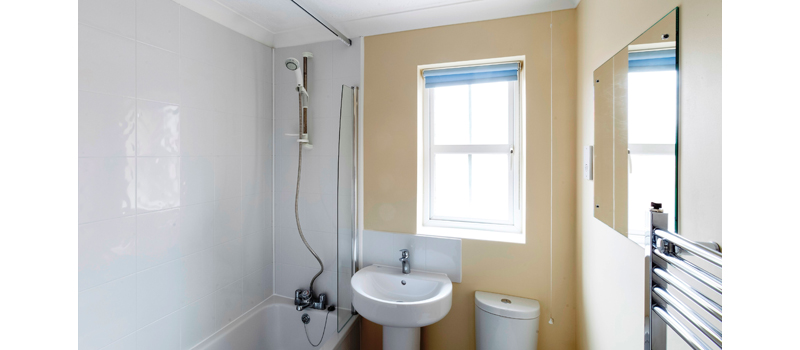 Mira modular wall panels have helped contractors shave a year off a five-year MoD refurbishment programme.
"The tenants love the wallboards because they are so much easier to keep clean and looking smart than tiles," comments George Harvey, contract administrator for the Flagship Group, which operates and maintains the houses on behalf of the owners, Brookgate. "There's never any mould growth and the grouting always looks nice and tidy."
The 250-home estate in Hadleigh, Suffolk, is a PFI project providing homes for MoD personnel at the nearby RAF base that offers seven types of accommodation in three to five bedroom houses, all of which were due to receive new kitchens and bathrooms over five years as part of the agreed contract.
Designed for showering, bathing and hand basin areas, the Flight Modular Wall panels are a range of tiled, waterproof wall panels that are said to achieve high quality professional installations with greater ease and speed of fixing than traditional tiling, a point appreciated by Tom Humphries, project manager for Cocksedge Building Contractors.
"Time is a big concern on a job like this so this product is ideal because we can do in one day what would have taken us three," he says, explaining that otherwise they would have had to rip out the existing tiles, make good the walls, put on new tiles and then return to grout them.
"We would never have been able to cut a year out of the programme if we'd opted for tiling," he comments. "We found that the panels are very quick and simple to cut and fit using diamond disc blades – so much so that we used them as bath panels to get a really colour co-ordinated appearance."
Manufactured from acrylic-capped ABS for high impact resistance, Flight Wall products incorporate Biocote antimicrobial technology that keeps the panels looking like new by keeping mould at bay and eliminating the risk of grout discolouration or grout porosity.