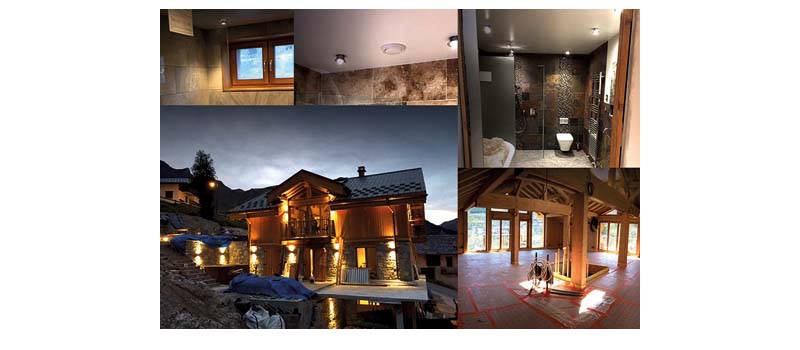 Polypipe Ventilation's Silavent Green Line HRX2 Mechanical Ventilation with Heat Recovery (MVHR) systems have been chosen for a new development of luxury chalets in Saint Martin in the French Alps.
The first chalet, which has already been fitted with the Polypipe MVHR system, is a major refurbishment of a three story concrete building, stone clad and with extensive use of glass to make the most of the spectacular views. The HRX2 has been housed in a dedicated plant room adjacent to the chalet and will be used to recover heat from the stale waste air extracted from the five bathrooms and sauna in the accommodation; the fresh, filtered and pre-warmed air will then be distributed to the seven bedrooms.
A further three chalets are currently in development.
The Silavent HRX2 MVHR system was chosen by Lee Adams of LA Developments, the Contractor for this new chalet project, as they complement the air source heat pumps and under-floor heating being installed. As the properties are being built to minimise heat loss, a whole house ventilation system was essential to prevent the build up of condensation and ensure a constant supply of fresh and filtered air for the occupants. The systems also effectively help to reduce demand on the heating system.
Designed and manufactured in the UK, the Silavent Green Line HRX2 MVHR units significantly help lower Dwelling Emission Rates (DER) to earn additional SAP points. Featuring the latest fan technology, these units offer an extremely low Specific Fan Power (SFP) down to 0.46 W/(l/s), resulting in minimal energy usage whilst retaining full air flow performance. The distinct moulded EPP casing helps to maximise air flow, as well as delivering improved thermal efficiency, thereby enhancing the recovery of a home's waste heat, up to the SAP Q-topping level of 95%.
For Lee Adams, who has previously only fitted one MVHR system, the HRX2 proved to be very straight forward to install. That's because Polypipe Ventilation has incorporated a number of features to make installing the units much easier and quicker than alternative models on the market. Such features include an external wiring centre, so the electrical connections and controls can be accessed for installation and commissioning without the unit being dismantled.
This also prevents the internal electrics from being exposed to any moisture within the unit. In addition, the HRX2 units are 'ambidextrous' so the appliances can be fitted to the left or right hand side of the property, regardless of the location of the external walls, avoiding the need for complex 'cross over' duct runs.
Another unique feature that, according to the manufacturer, sets the Silavent HRX2 apart from competing models is its ease of end user operation. Polypipe Ventilation has purposefully kept the unit's interface clear and easy to use, with the instructions mounted directly onto the units so subsequent owners can use the technology with complete ease.
Polypipe Ventilation provides differentiated solutions in the private and social housing sectors, transforming the way developers, specifiers, installers distributors and home owners meet emerging environmental standards. For further information, please go to www.polypipe.com/ventilation