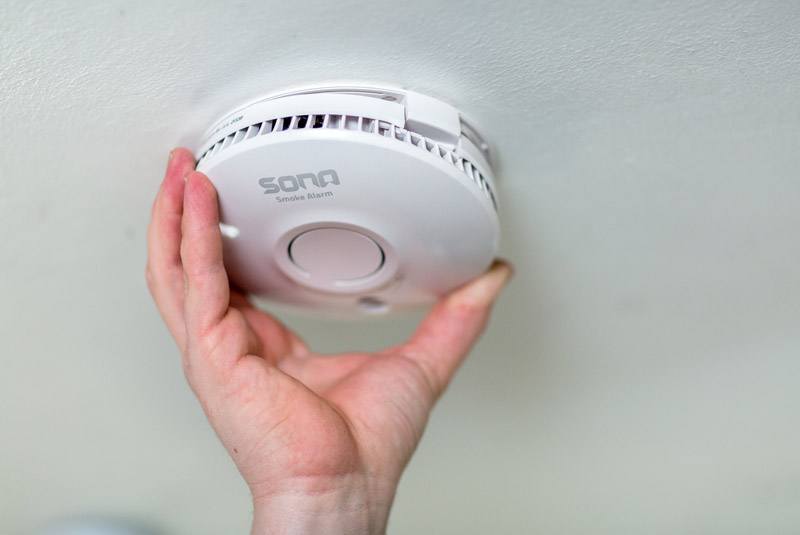 Legislation continues to drive housing associations to implement measures that improve the standard of their housing stock. One such housing association in Braintree, Essex invested in a new smoke alarm system that not only exceeded the requirements set out in the Decent Homes Standard, but also improved the safety of its tenants.
Greenfields Community Housing maintains a rigorous maintenance programme across its portfolio of more than 8,000 homes, in a bid to keep properties safe, secure and in good condition. As part of the maintenance regime, Greenfields reviews the specification of all equipment utilised throughout its housing stock and recently contacted SONA for advice on the latest fire protection technology.
After reviewing the requirements set out by Greenfields, SONA recommended the use of its Thermoptek multi-sensor mains-powered smoke alarms. With the combination of optical sensing and thermal enhancement, the SONA smoke alarm ensures the detection of both fast flaming and slow smouldering fires in a single unit, making it the perfect solution to meet all of Greenfields' needs.
Daniel Miller, Electrical Manager at Greenfields Community Housing, said: "As a social landlord, we have to adhere to the Decent Homes Standard that ensures all properties are suitable and safe for occupation. As part of this, we are constantly looking to exceed this standard by utilising the latest technologies available in the marketplace in order to improve the safety and living conditions of our tenants, and we felt SONA complemented this perfectly.
"The decision to roll out the use of SONA Thermoptek smoke alarms throughout our building stock was made simple due to the number of benefits the product offers. Not only will the alarm react quicker in a situation across both fast flaming and slow smouldering fire types, it also helps to reduce nuisance alarms.
"Nuisance alarms, generally caused by toasters, can lead to tenants removing the battery or the smoke alarm completely, putting the safety of the property and its occupants at risk. The maintenance costs associated with nuisance alarms are generally quite high for housing associations, meaning that the use of SONA alarms increases the fire protection of our tenants, whilst proving a far more cost effective solution over the long term. In addition, the alarm itself has a stylish aesthetic, helping to complement the modern interior of our properties."
Jeremy Roberts, Trade Sales Director at SONA, said: "The safety of tenants is of the utmost importance to any housing association. Through the use of SONA smoke alarms, Greenfields Community Housing is now able to utilise the latest sensing technology to enhance the fire protection of both its tenants and property portfolio in a far more sustainable manner.
"Moving forward, Greenfields will be looking to utilise our SONA wireless smoke alarms that enable the entire SONA range of alarms to be interlinked within a property, helping to increase fire and CO protection whilst reducing installation time and costs."
For more information on SONA visit: www.sonasafety.com