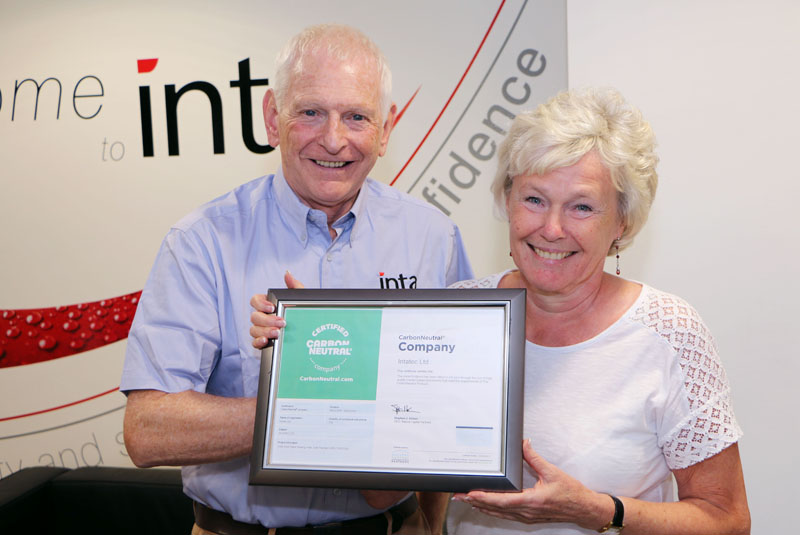 Inta has been awarded CarbonNeutral certification after it reduced its carbon footprint to net zero.
Based in Staffordshire, the manufacturer worked with Natural Capital Partners  – one of the world's leading carbon offset and carbon management businesses who issue the CarbonNeutral certificates – to measure and reduce the greenhouse gases it produces to net zero. To achieve this, Inta has ensured that every tonne of CO2 it emits is balanced by saving an equivalent amount elsewhere in the business.
To receive the CarbonNeutral accolade, Inta's energy consumption, waste and business travel were assessed and quantified.
Cynthia Fisher, director at Inta, said: "Acting environmentally responsible is a huge priority for us. As we create bathroom products with water-saving features – some of which reduce water flow rates by up to 60% – we wanted to strengthen our green credentials by reducing our carbon footprint across the whole business.
"To operate sustainably isn't something we've taken lightly and subsequently, we've invested heavily into our building facilities to minimise waste. We've installed triple glazed windows and fully insulated our roof space which has also reduced our bills, as well as introduce an electricity optimisation system that has reduced power consumption by 15%. Our staff have also got completely on board, with many now more aware of their water, gas and electricity usage.
"Working with Natural Capital Partners has been fantastic and its support and guidance has been instrumental to our success. We're thrilled to have achieved this award and actively encourage other businesses to strive to do the same."
Rebecca Dallimore, Client Relationship Manager at Natural Capital Partners, said: "Inta becoming CarbonNeutral is an important step, not only for its business but for the manufacturing industry as a whole. By committing to reduce its emissions to net zero, Inta has set the benchmark. Manufacturers are an important part of any supply chain, and by taking steps to reduce its environmental impact, Inta is supporting its clients own environmental agendas."
For more information on Intatec, visit intatec.co.uk