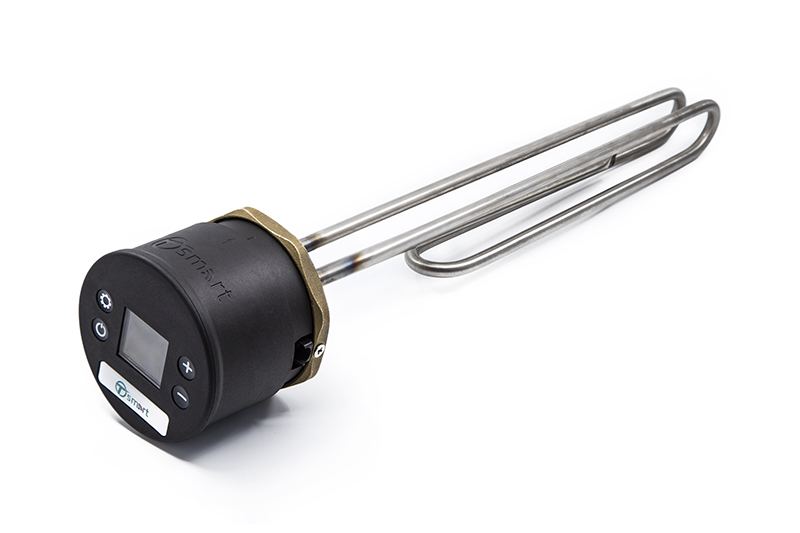 Tesla UK has introduced the T-Smart Thermostat, a wirelessly controlled immersion heater that not only gives control at your fingertips but offers automated protection from bacteria such as Legionella and Pseudomonas.
Until recently, heating systems were mainly controlled from inside the home by wall mounted thermostats and controllers. We are now living in a time where your central heating systems can be remotely controlled by a smart phone or tablet offering comfort, control and energy savings at your fingertips.
Whilst this change was happening, Tesla UK noticed hot water storage appeared to be missing from this technology. This has resulted in the develpoment of T-Smart; a smart thermostat allowing you to manage a hot water cylinder in the same manner, increasing control, reducing unnecessary heat losses and ultimately reducing energy consumption and saving money for the homeowner.
The T-Smart features Manual, Eco, Smart, Timer and Travel modes – which ensures there is a setting for every application and user. In Smart mode, the T-Smart takes seven days to learn the usage pattern for a property and then the following seven days implementing this pattern. Once the technology is happy that the sequence is right, it will implement a smart sequence suitable for the hot water usage. This function will deliver the required amount of hot water at the time it is needed and uses the least amount of power to do so.
Safety features such as the freeze protection and anti-legionella mode mean the home is continuously protected from frost and more importantly bacteria such as Legionella and Pseudomonas growing in the hot water system. These features are automatically programmed into the thermostat so the tank contents are safe to use at all times.
Modern world living is becoming more minimalistic and with that wall controllers, time clocks and even radiators are being replaced with plain white walls, underfloor heating and smart controls. T-Smart addresses this trend too. The option exists to set heat cycles manually; the mobile app has a seven-day programmer built-in where it's possible to set as many heat cycles as required and store water at the right temperature for the desired usage.
T-Smart has many uses and will be retrofit ready for any horizontally mounted 1 ¾" domestic immersion heater up to 3kw with a push-in rod thermostat.
To watch the installation guide and app set-up videos, click here