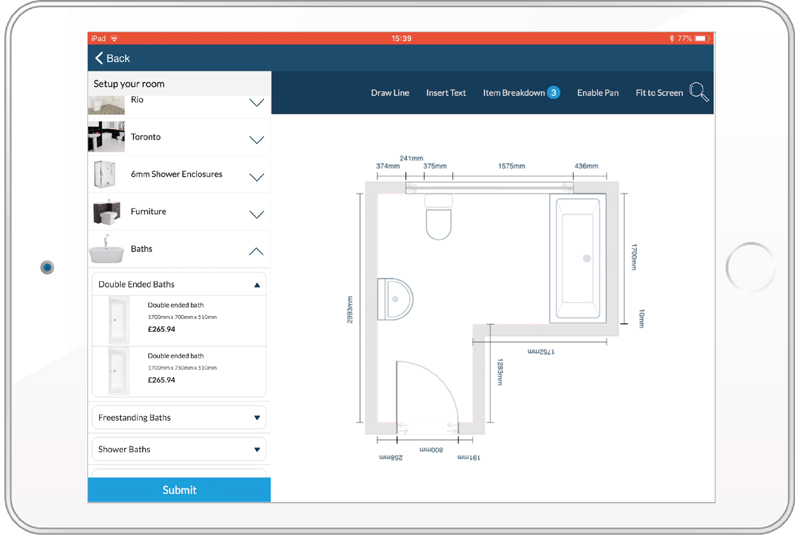 Following the successful release of its mobile phone and tablet app in 2017, TradeHelp has expanded its functionality to include a new bathroom design feature. Created to help organisations operate efficiently and provide better value to customers, the latest version is available to download from 1st November 2018.
TradeHelp is a free-to-join network, offering a wide range of industry benefits to heating, plumbing and now bathroom installers, designed to enhance their businesses and provide a range of time and money-saving solutions. One of these tools is the TradeHelp app: free to download on both Android and iOS, the app effectively enables installers to control and run their business right from the palm of their hand. The time-saving app boasts a quick quote and invoice tool, appointment management system, a comprehensive toolbox and multiple payment options for their customers, such as 0% interest free credit.
Since the launch of its app in September 2017, TradeHelp has witnessed huge growth and now has over 3,000 members, supported by 19 manufacturer and merchant partners.
As a result of its success, TradeHelp is launching a brand new bathroom feature within the app. The feature will include free design-software, enabling installers to create comprehensive, professional bathroom plans whilst in the customer's home, rivalling larger interior or bathroom design companies. The app also enables the installer to then easily order the products used in the room-design direct from their local merchant or manufacturer, with just the tap of a button.
"The TradeHelp Network provides great assistance to installers, enabling them to access reduced product prices and special offers from leading manufacturers and merchants. It also provides company-specific 'best buy' recommendations and equips installers with time-saving tools to support them in their day to day work," explains TradeHelp's managing director, Martin Jones. "Following the exciting success of the initial launch, we are delighted to announce the introduction of our new bathroom design feature within the TradeHelp app, providing installers with an additional tool to help grow their business. We are always looking for new ways to enhance our offering and help our members stand out in today's competitive market – and this is just one of many developments planned."
As well as time-saving tools, exclusive product discounts and finance options, the TradeHelp Network's procurement team offers further support to members with invoice checks and advice on how to structure their purchasing – helping businesses buy smarter. Members also have access to extended warranties of up to 10 years on leading manufacturer brands, providing them and their customers with added peace of mind.
TradeHelp regularly welcomes new supply chain partners who are looking to increase their sales by supporting its Network. Partners benefit from the promotion of their products to the thousands of TradeHelp installer members and the opportunity to attract new customers through a tailored marketing plan.
Looking to the future, TradeHelp has plans to expand its network throughout 2019 by targeting more trades.
The TradeHelp Network is free to join: simply download the free TradeHelp app from Google Play or the App Store and create an account to start accessing its range of benefits.