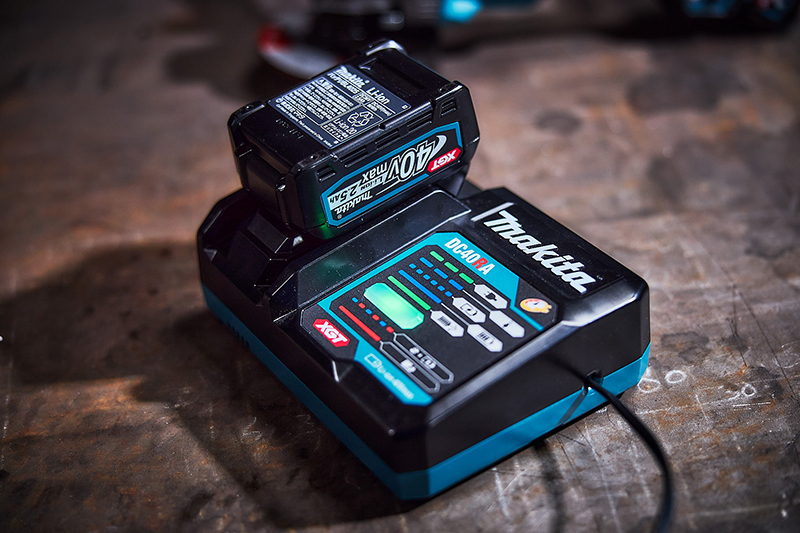 We take a look through the new 40V line-up from Makita.
Instantly recognisable thanks to the light blue colour, most installers will have come across at least one of Makita's tools during their time. Now, the company has announced the introduction of its highest power cordless solutions yet: XGT 40V Max.
The XGT range of machines – including combi drills, grinders, rotary hammers, impact drivers, circular saws and reciprocating saws – offers high output, durability and fast charge times, all designed to keep you working for longer without disruption.
New platform
XGT 40V Max is the new standalone cordless battery platform from Makita – with its own range of tools, lithium-ion batteries and chargers. The 40V Max system will stand side-by-side with the LXT platform to offer a battery solution for all applications.
XGT has been built around three concepts – high power, tough design and smart technology.
High power
With 40V Max power, XGT is the most powerful battery platform in the Makita range. The increased output is ideal for higher demand applications. The range benefits from a completely new design across the machines, the batteries and charging system. Instead of going for a higher voltage battery, the Makita R&D team has developed a system with improved construction and advanced technologies to achieve optimum power and performance. When going for a higher voltage battery there is a trade-off between power and run-time, however, Makita believes that XGT delivers balanced run-time delivered from the new 40V Max motor and battery platform, with all the power that is required for heavier duty applications.
Tough design
The new XGT batteries have been engineered with durable design features to minimise damage and withstand tough environments. To protect the battery if dropped, there is a heavy-duty outer casing and cell holder and a shock absorbing housing. Each battery also has an IPX4 rating, which means that it is splash and shower proof, and water ingress is limited – this could be a particularly useful feature when working with pipework or outside in unpredictable weather.
Smart technology
To optimise battery performance and charge times, XGT features Makita's smart system technology. This in-built programme allows digital communication between the battery and the charger, as well as the battery and the tool, to provide protection against issues such over discharge and overheating. For example, if the battery has overheated, the charger will cool it down before charging begins. This has been designed to significantly speeds up the charging process and minimises downtime.
Kevin Brannigan, Marketing Manager at Makita, said: "This an exciting time for existing Makita users and new users alike. Makita's new XGT platform is the next generation in cordless technology, leading the way in both performance and intelligence. With XGT, you can experience the same high power associated with corded and petrol machines, but with the increased flexibility of cordless – making XGT the ideal solution for high demand, industrial applications.
"The complete solution of our existing LXT 18V system and the new XGT 40V platform offers even more battery-powered solutions for a truly cordless job site."
Brushless motor
To improve durability, the new XGT tools also benefit from Makita's brushless motor. As there are no moving parts within the motor causing friction, wear and tear and ongoing maintenance costs are minimised. No friction also means that no energy is lost through heat production, which increases run times.
To support the new product range, Makita has also launched a selection of accessories. The 40V batteries can be purchased individually and are available in 2.5 and 4.0Ah versions. To minimise operator fatigue – and maximise on-site productivity – the batteries are relatively lightweight. For example, the 2.5Ah XGT batteries weigh just 100g more than 18V LXT alternatives.
Battery charger
To charge the batteries, Makita has launched the DC40RA 40V Max fast charger. Due to the smart system, the DC40RA offers optimised charging. For example, a 2.5Ah XGT battery can be charged in just 28 minutes and a 4.0Ah battery in 45 minutes.
For those who are currently using Makita's LXT products, Makita has developed an adaptor that allows you to charge your LXT batteries using the XGT charger. This makes changing between tools straightforward. With the adaptor, LXT batteries charge in just 22 minutes for 3.0Ah batteries, up to 40 minutes for 6.0Ah batteries.