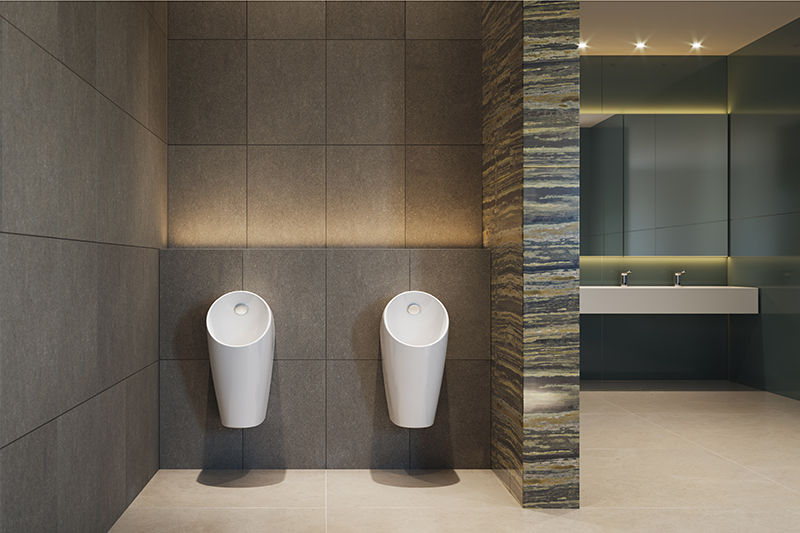 Armitage Shanks has launched Sphero, its new collection of intelligent urinals. The Sphero range has been designed with features which allow for greater levels of cleanliness, easier installation and maintenance, as well as water saving benefits for all commercial spaces.
Armitage Shanks worked with design studio, Studio Levien, to create the Sphero collection which incorporates features to meet the current and future needs of installers and their customers. The range comprises three different sized urinals – Mini, Midi and Maxi – with multiple installation options, all of which complement the modern washroom. The electronic Maxi e-hybrid model has built-in smart technology (mains supply), which detects levels of salinity, optimising the urinal's water usage by adjusting flushing according to usage patterns. Another key feature of the electronic models is the spreader light, which senses blockages and other maintenance issues.
Sphero's circular, concave shape has been designed to minimise splashing while also improving the cleanliness, durability and efficiency of the urinals. The new rimless design adheres to contemporary trends, as well as helping to retain liquids within the bowl, aiding hygiene and cleaning regimes.
The Sphero Maxi model comes with an installation template with an incorporated rubber seal which eliminates the need to use sealant when fitting the product. The template includes a levelling slot, pre-holes and markings for ease of installation. The model also has an innovative, patented hinged maintenance bracket so installers can easily access the inner workings of the urinal.
The range comes with all the key components expected from a urinal under one product code. Its spreader nozzle delivers a hygienic flush which covers most of the urinal bowl. The top fixed waste feature allows for quick and easy access when using the supplied service key.
Tony Rheinberg, Senior Sector Marketing Manager, Armitage Shanks, commented: "We believe in designing for people, but also innovating for the planet. This was the thinking behind our easy to install Sphero offering, which brings hygiene, user comfort and easy maintenance together thanks to intelligent designs and smart technology. Design and performance often seem incompatible, but this new collection features stylish aesthetics allowing for greater levels of cleanliness, and water saving capabilities. Water is our most precious resource and our next generation of products will help address the growing global challenge of climate change."