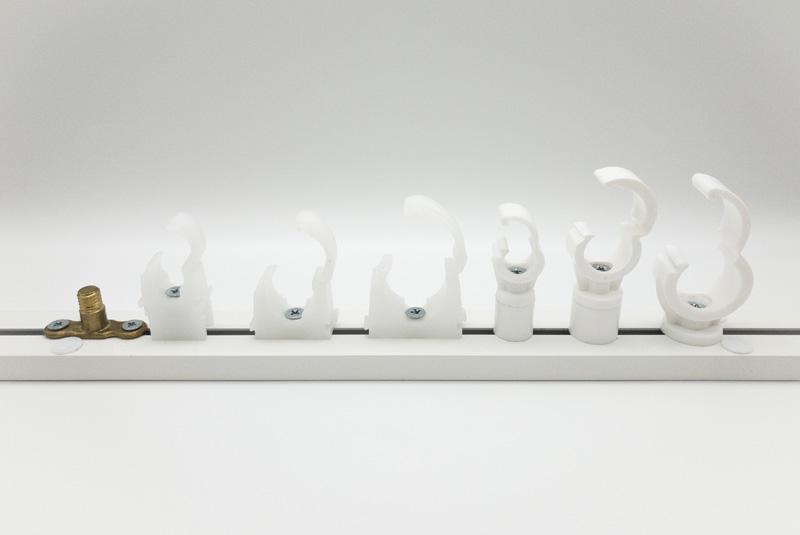 Designed as an intelligent fixing solution for pipe clips, Plumbpal's Clipping Clever has witnessed plenty of interest at the PlumbExpo shows in London and Manchester already this year. We get the lowdown on the benefits it can offer to installers.
The versatile, powder coated aluminium rail that makes up Clipping Clever is designed to allow installers to fix pipes with ease and with an enhanced professional finish. Ideal for both light commercial and domestic use, the rail size comes in at 500mm long and 13mm thick.
Plumbers will likely find it ideal for pipework runs in situations such as under boilers, airing cupboards, garages and in roof-spaces.
Plumbpal believes the product creates a number of benefits for installers:
*an increased ability to adjust pipe clips for perfectly centred pipes – pre-plumb pipework before installing the boiler
*make uneven surfaces flat – ideal for block and brickwork, plasterboard or joist-work
*minimises incorrect drilled hole mistakes – no more unsightly holes
*aluminium rail is easy to cut – will not rust over time
*enhances your professional install with a smooth clean aligned finish
The device has clearly been designed to fill the void between the industrial galvanised channel solution and individually drilling each clip, while allowing installers the opportunity to use their chosen plastic clip ranges with or without spacers.
Using the image of the clip on the front of each accessory pack to select the correct bolt length and captive back nut, Clipping Clever offers pack sizes of sixes and 50s to suit job requirements and accessories such as rail end caps and screw hole cover caps to enhance the finished look.
In addition, a 3M tape fixing solution is featured for flat surfaces and non-load bearing pipework – vertical runs on plasterboard, for instance.
Installer reviews have been full of praise on social media and at the recent Toolfair and PlumbExpo events, it's certainly been a crowd-pleaser, with one heating engineer working on a boiler replacement commenting: "The old brickwork completely crumbled to bits when I removed the old clips. No way I'd of had a decent fixing on the new clips without Clipping Clever – very handy and very easy to use. Good bit of kit!" High praise indeed!
Watch @hl_heating's demo from PlumbExpo London below:
View this post on Instagram