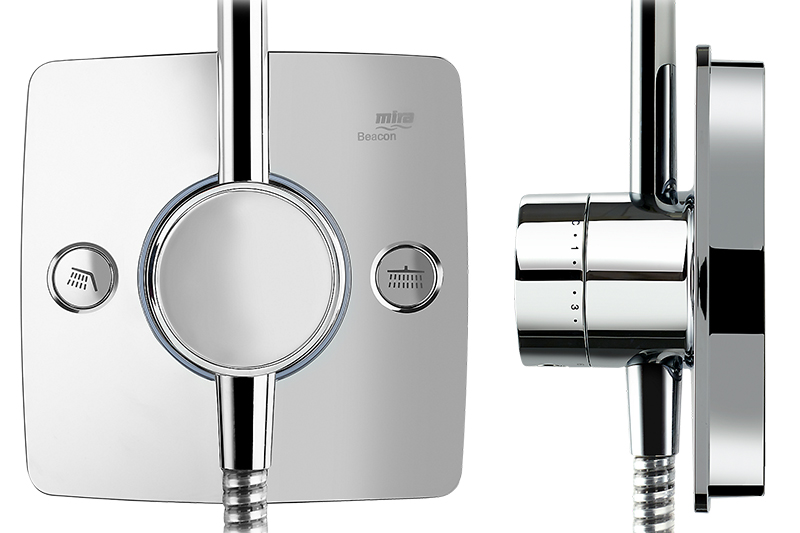 Mira Showers has announced the addition of the Beacon Dual to its ever-growing collection, giving Installers the opportunity to offer their customers a genuine spa-like experience.
Offering an array of features, the Mira Beacon Dual comes complete with Mira's brand new Mira HydroGlo technology. HydroGlo is a wireless and entirely self-powered light that emits a glow to communicate to the user once their shower has reached the desired temperature.
With a 110mm handset, the Mira Beacon Dual offers four spray modes as well as a 250mm overhead deluge. Developed with Magni-flo technology, this new product delivers up to three times more flow, meaning the range will perform well even at low water pressures.
Crucially for the installer, the Mira Beacon Dual is simple to install and comes with push-fit pipe connections as well as a first fix kit which includes fixings and templates to make installation, easier, faster, and more secure. With 50mm pipe centres, Mira Beacon is ideal for new installations but also offers a seamless retrofit for the Mira Agile and Mira Pronta range of showers.
When it comes to maintenance, Mira Showers has worked to keep this at a minimum. The integrated filters with increased surface area means damage from debris is prevented, and as it's a lot harder to obstruct, the Mira Beacon Dual is much more reliable, resulting in reduced upkeep for your customer.
The adjustable, moveable deluge head also increases installation flexibility. Both the single and dual outlet variants use the same first fix kit, ensuring that upgrades can be catered for.
The slimline model, which comes in a chrome finish, utilises a flush design to provide a built-in look without the hassle of a complicated in-the-wall installation. It also comes with a five-year guarantee for complete peace of mind.
The Mira Beacon Dual includes technologies such as the Mira Nano-T Cartridge, its patented thermostatic technology certified to the TMV2 safety standard. The Nano-T is an advanced cartridge for reliable, precise, and enhanced thermostatic control, tested to 200,000 life cycles for reliable performance.
The Mira Beacon Dual is also included as part of the InstallerPRO programme, InstallerPRO's exclusive rewards programme recognises installers' commitment to specifying and fitting selected Mira Showers products. Members can earn points simply by uploading details of their installations to the InstallerPRO website from across a selected range of products.