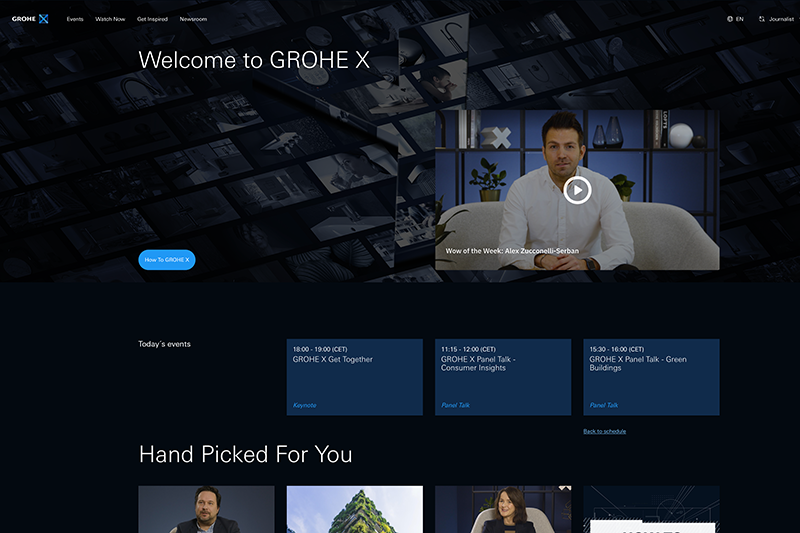 We recently reported on the launch of the new GROHE X digital platform, designed to support customer and installers. Here we speak with Adam Logan, Training Manager, GROHE UK, about the new initiative and the company's GIVE program to support young installers.
Why has the GROHE X platform been developed?
GROHE X is an industry-first global digital platform that we have developed in order to support our customers across all channels with tailored, informative and inspirational content.
Over the past year, we've not been able to connect with our customers in ways that we normally would. We've not been able to exhibit at trade fairs to showcase our latest kitchen and bathroom innovations. Whilst face-to-face meetings and interaction will always be important, we desired a forward-thinking, accessible, always-on space that our customers could turn to 24 hours a day, seven days a week.
GROHE X provides a digital experience that can offer all of the above, as well as a brand experience that can be tailored to each individual's needs and requirements. It also gives our customers another means of connecting with us, allowing customers to request the chance to connect with a GROHE colleague for support or advice.
What are the most beneficial elements for installers?
With GROHE X, installers now have quick and direct access to an array of content: from How To videos, to installation guides, and tips and tricks. GROHE has many hundreds of products in the market, and we understand the challenge that installers can be met with when customers ask them to install our products, or repair an existing product.
This new resource will provide installers with a quick and easy reference library where they can seek easily digestible guidance and support whilst on the job, helping to make the installer's work more efficient and improving the experience for both installer and end user alike.
Can installers continue to access technical support directly from the company?
Absolutely. GROHE X has been designed to enhance our customer service and experience but will not replace any of our existing means of customer support. GROHE X is just one way that installers can access information directly from us on how to install a particular product for example, however we still continue to offer customer support via email, web contact form and telephone too.
Will the GROHE Truck Tour be returning this year?
Due to the ongoing uncertainty, restrictions and health concerns caused by the COVID-19 pandemic, GROHE has made the decision that the GROHE XXL Truck Tour will not be returning in 2021. However, we are already excitedly planning our next series of events and are committed to bringing the Truck Tour back as soon as it is safe to do so. The trucks are currently undergoing refurbishment ready for the truck tour to recommence in 2022.
We are also considering the concept of hybrid events in the future so that we can reach even more of our customers, using both the GROHE trucks and also streaming these events digitally onto the GROHE X platform.
What is the new GIVE programme?
The GIVE programme, GROHE's Installer Vocational Training & Education programme, is a new training scheme set up to offer hands-on accredited training to young installers.
As part of the GIVE programme, GROHE will support partnering plumbing schools in creating a state-of-the-art training framework by installing modern training facilities and providing learning material and experienced technical trainers. Students will complete a specific product training designed by GROHE, for which they will receive an internationally recognised certificate.
Given the shortage of skilled installers we are currently seeing across the industry, we wanted to create an attractive, fulfilling and first-rate training programme that would encourage and appeal to young learners. GROHE is currently working with 26 training colleges and institutions across the EMENA region and we have plans to expand this number to 50 in the next two years.
The GIVE programme actually started in the UK itself, with the highly successful working partnership between GROHE and Colchester Institute, the largest vocational college in North Essex. The dedicated fully-functioning training rig was opened to its 500-strong cohort of plumbing students in November 2019. We are currently planning how we will expand the success of the GIVE programme into more UK training colleges, with potential partnerships on the horizon in both Dublin and the South of England.

How can installers benefit from this new scheme?
The GIVE programme is designed to support the next generation of plumbers by providing them with the opportunity to participate in an industry recognised and certified qualification scheme. Our aim is that this will help them to lay the foundations for a successful career in the plumbing industry.
www.grohe-x.com/en
www.grohe.com/en/corporate/about-company/sustainability/give-program-for-young-students