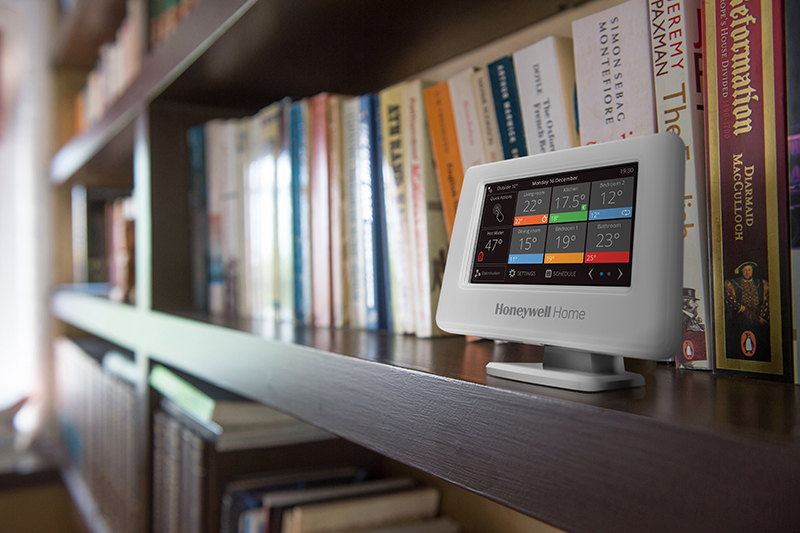 Rob Whitney from Resideo explains what installers should consider when integrating a new heat pump system with heating controls which allow multi-zoning, using insights gleaned from a recent retrofit project at his own home.
In recent years, the UK has made rapid progress in generating more of our electricity from sustainable sources. In 2019, low carbon electricity's share of generation increased from 52.6% in 2018 to a record high of 54.2%, driven by growth in renewable generation due to increased capacity. The gradual decarbonisation of electricity, coupled with the development of government policies, legislation and financial incentives to heat domestic and commercial properties with low-carbon technologies, is driving the expected growth of the heat pump market over the next few years.
However, it is important to bear in mind that any heat pump-based system needs to be designed correctly to enable the technology to work efficiently. Controls are part and parcel of how a system operates, so for projects where a property needs to be divided into multiple heating zones, using the right zoning strategy will enable building occupants to benefit from the energy savings expected.
Retrofit challenges
When we had a Mitsubishi Ecodan heat pump system installed in our home recently – as part of a two-year technology demonstration to equip the Department for Business, Energy and Industrial with real world insights – we wanted to keep our Honeywell Home evohome smart controls. It had been used as part of the boiler-based system, so that we only needed to heat up the areas around the house being used at any particular time.
To continue doing this, the evohome multizoning system was upgraded by installing a heat pump relay, so that it could work with the new heat pump. The evohome was recommissioned to work with the heat pump relay and communicate with the Mitsubishi FTC6, which was the heat pump's main control interface.
Although a third-party control such as evohome can interface with almost every heating application including heat pumps, and enable a property to have up to 12 heating zones, it was important to integrate it correctly with the whole heat pump system design. This would ensure that a certain amount of flow is maintained to the heat pump, and that the amount of heat called for through the controls stays within its modulation capabilities.
System design and integration
Because we remained keen to split our home into different heating zones using the evohome smart zoning system, a low-loss header was included as part of the design to separate the hydraulic circuits. This way, sufficient flow through the heat pump could be maintained to keep it running without using a buffer tank – which could not be accommodated in the property.
With such a heating system design, it is important to avoid over-zoning so that there is sufficient heat demand and that the heat pump has the correct flow of water for it to operate.
Zoning strategy and configurations
The best way to give homeowners the flexibility they need without over-zoning is to group rooms or spaces into areas according to common usage patterns. So, for example in our house, first thing in the morning, the bulk of the house – which is the biggest zone – calls for temperatures to reach 19°C, allowing the heat pump to operate at 70% of its capacity, before the bedrooms also call for heat. At 9am, the bedrooms return to set back temperatures and the home office is warmed up. Because I am currently working from home, the main house zone is kept warm throughout the day, before all zones are set back to 16°C overnight.
To enable the heat pump to operate in the most energy efficient way, heat has to be provided for sufficiently long periods. The amount of time when heat is not needed also needs to be long enough so that the heat pump does not cycle on and off. This is why the 'minimum on time' on the evohome's installer settings are adjustable to suit heat pumps and boilers. In our property, these are set to one cycle per hour, 20 minutes 'minimum run', and the 'minimum off time' is 10.
Getting started and beyond
Bearing in mind that the customer's property would not have been heated for some time whilst a new heating system is installed, it may be necessary to make some manual adjustments to warm the house up when the heat pump is commissioned. In our case, the flow temperature was manually raised to heat the building fabric when the system came to life. Over the next few days, minor adjustments were made to the weather compensation curve via the evohome control, which varies the heat pump flow temperature according to the outside temperature, and room schedules.
It is crucial to remember that unlike boilers, heat pumps work in a different way to deliver optimum comfort in the most energy efficient way. That's why controls need to be correctly integrated with the whole system design. This is even more relevant when using more sophisticated controls that can separate a property into multiple zones, so that the bill payer can reap the full financial benefits of heat pump technology.
resideoinstallertoolbox.com//products/evohome