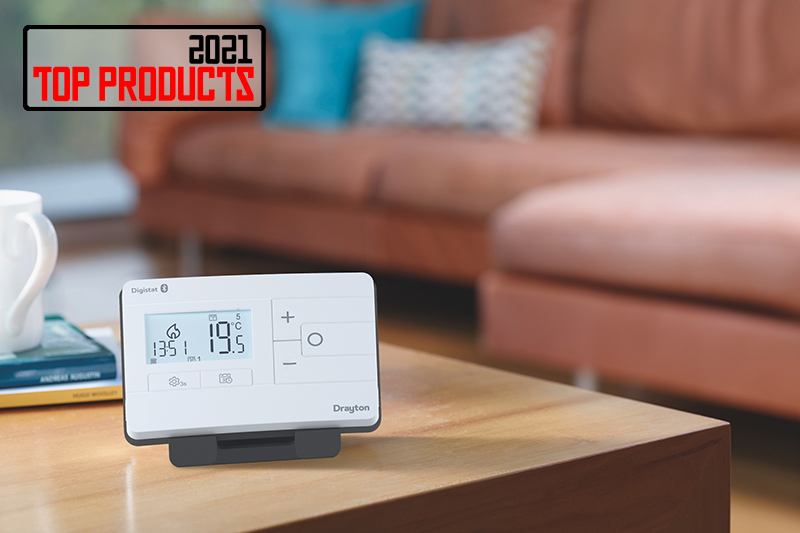 The new generation of Drayton's Digistat combines a number of the latest features, along with a contemporary new look and app control.
Bluetooth connectivity offers in-home control of the new Digistat, achieved via the company's Wiser Home app, to make it easy for users to create and adjust heating schedules from their phone.
Customers have the option of choosing between operation via the thermostat or via the app. Once the installer has set up the new Digistat, with either a 7-day, 5/2-day, 24-hour programme or no programme function, homeowners can build their heating schedule via the Wiser Home app. Alternatively, the time and temperature schedule can be adjusted on the thermostat itself.
It is hoped that the new Digistat and the Wiser Home app will help to simplify the handover process and reduce call backs.
Smart modes
In the app, customers can access innovative smart modes, typically associated with smart controls. The energy-saving Away Mode and Delayed Start offer reductions in energy use of up to 24% and 10% respectively. Boost Mode allows users to temporarily increase the desired temperature for a short period without having to adjust the schedule, whilst Timed Away Mode can pause the schedule for longer periods of time, allowing users to set a start and end time and date, similar to a Holiday Mode function.
Suitable for both new and existing systems, the RF version of the new Digistat is compatible with the UK standard wallplate for simplified retrofit, whilst the spare thermostat is compatible with existing SCRs. It is also available as a two channel wireless option, offering installers a solution for either heating and hot water, or two heating channels on a combi boiler.
The new Digistat is also compatible with future heating set-ups as it is optimised for heat pumps as well as oil, gas and electric heat sources. To help improve the performance of the system and reduce carbon emissions, the new Digistat features OpenTherm modulation on the mains relay and RF single channel versions.