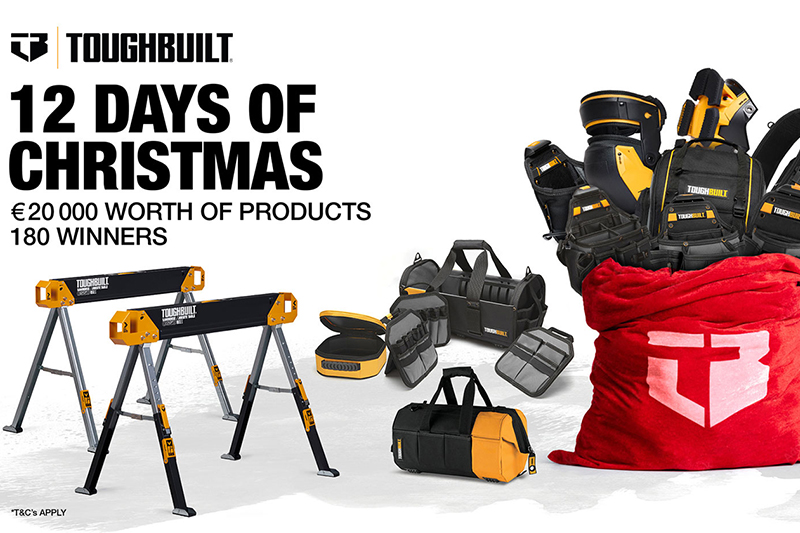 ToughBuilt is entering into the true spirit of Christmas. The business is running a seasonal promotion that will see it giving away over €20,000 worth of products from across its comprehensive range.
ToughBuilt's 12 days of Christmas giveaway runs until 21st December and is open to residents of Great Britain, Ireland, Germany, France, Belgium, the Netherlands, Switzerland, Austria, Poland, Portugal, Spain, the Czech Republic, Sweden, Norway and Denmark.
The prizes on offer range from kneepads and tool backpacks to totes and sawhorses. Prizes will be announced every day on the ToughBuilt (Europe) Facebook and Instagram pages.
Taking part is easy. To enter, simply visit one of the ToughBuilt (Europe) social media platforms (links are below) where you'll be directed to a page dedicated to the promotion on the manufacturer's website.
Once you've supplied a few basic details such as a contact email and phone number, you will be placed into a draw with winners selected daily at random. Over the course of the 12 days of the promotion, ToughBuilt states that there will be at least 180 people who win prizes.
Matthew Handley, European Head of Marketing, said: "2021 has been fantastic year for ToughBuilt in terms of business expansion and new product launches.
"Our 12 days of Christmas giveaway is a celebration of that fact and also our way of giving back to the many trades, industries and stockists who have supported us. We would like to wish all of these key contacts a very merry Christmas."
www.facebook.com/ToughBuiltEurope
www.instagram.com/toughbuilt_europe