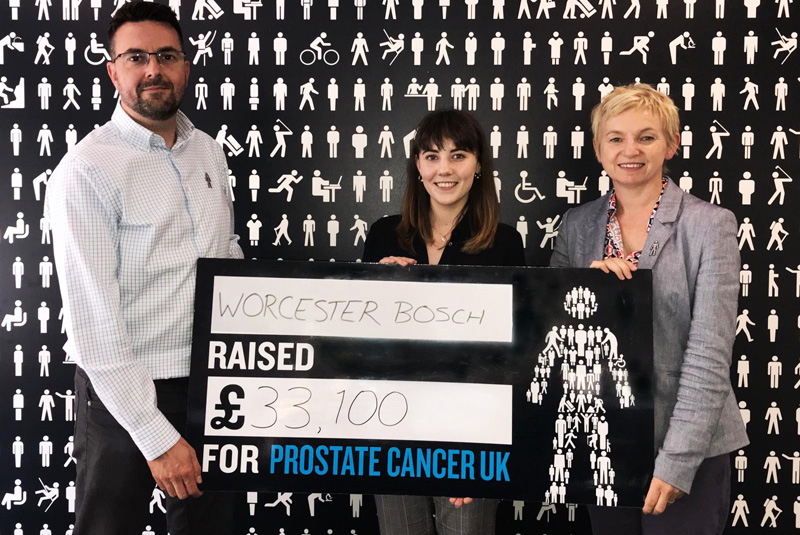 Over the last 12 months, employees at Worcester Bosch have raised £33,100 for Prostate Cancer UK.
Staff at Worcester Bosch have been giving donations and taking part in fundraising events, including the London half marathon and the Big Half in order to raise funds to help stop prostate cancer being a killer.
The money raised will help Prostate Cancer UK fund vital research into better diagnosis, treatment, prevention and support for men and their families facing a prostate cancer diagnosis.
Tamarin Ward, Head of Corporate Partnerships at Prostate Cancer UK, said: "We are incredibly grateful to Worcester Bosch for choosing to raise such an amazing amount of money for Prostate Cancer UK. We have been really impressed by the dedication and commitment from employees to get involved and support.
"Prostate cancer is currently the most common in cancer in men and the third biggest cancer killer in the UK. Our aim is to change this through groundbreaking research, and  making as many people as possible aware of the risks. We thank the team at Worcester Bosch for helping us to do this and in turn joining us in the fight against prostate cancer."
Andy Garbett, Worcester Bosch Marketing Manager, said: "Prostate Cancer UK is a charity that is close to the hearts of many of us at Worcester Bosch and people from across the whole company were keen to get involved in a wide range of fundraising activity throughout the year. We hope our donation will help support important research into better treatment and awareness of the disease, as well as the wide range of essential services offered by the charity."