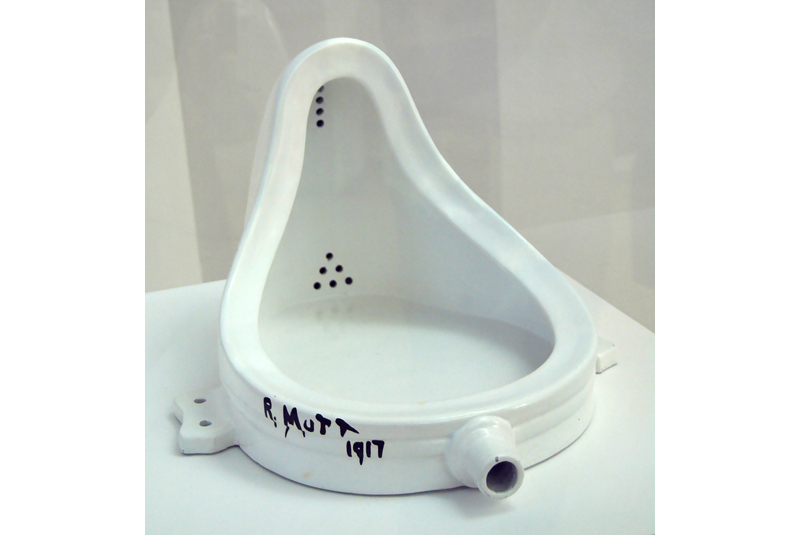 A new collaborative project between Hull School of Art and Design, bathroom manufacturer Armitage Shanks and the Arts community in Hull, has been launched to celebrate the dual anniversaries of Duchamp's Fountain (100 years) and Armitage Shanks (200 years) in 2017.
The project, titled Fountain17, is looking for artists, poets and playwrights with an open call to respond to Duchamp's intervention 100 years on – with a competition for ideas that transform an actual urinal (provided by Armitage Shanks) as well as responses inspired by 'Fountain' but produced in other media.
Marcel Duchamp was a pioneering artist whose work has had an immense impact on 20th and 21st century art.
Fountain is one of Duchamp's most famous works. The original, which is lost, consisted of a standard urinal, signed and dated 'R. Mutt 1917'. A replica is displayed at The Tate in London.
Armitage Shanks is owned by Ideal Standard, which has been an employer in Hull for over 100 years – and in 2017 Hull will be the UK City of Culture. The company still retains its original Armitage Shanks site in Staffordshire.
Tony Rheinberg from Armitage Shanks and Fountain 17 said: "We have no preconceptions as to how producers might respond. We are interested in ideas that transform an actual urinal as well as responses in other media.
"Proposals may develop any aspect of Duchamp's work including concept driven, process based, aesthetic, experimental and materials-led ideas. Outcomes may range from the performative, the sculptural, or the photographic to functional design solutions. We also welcome proposals that respond to Duchamp's experimental and playful use of words."
A panel will meet to select 20 to 30 proposals to go forward for realisation and exhibition. They will be looking for innovative, thought provoking and surprising ideas which will result in an exciting and varied exhibition. The panel will be represented by Ideal Standard (Armitage Shanks), Hull School of Art and Design, the arts community in Hull and will be chaired by International designer, Robin Levien.
The panel will be looking for a range of responses some of which will require a completed glazed urinal which will be supplied by Armitage Shanks. Each selected artist will be given a fee of £500 to realise/produce their idea. Completed works will be exhibited in a touring exhibition.
After the exhibitions, the work will be put to auction towards the end of 2017. 50% of any proceeds realised will go to the artist and 50% to charity – Bowel Cancer (the Armitage Shanks designated charity) and Hull Samaritans.
All successful applicants will have the opportunity to take a guided tour around the Armitage Shanks factory site in September or October 2016 and there will be an opportunity to specify your particular technical requirements on the application form.