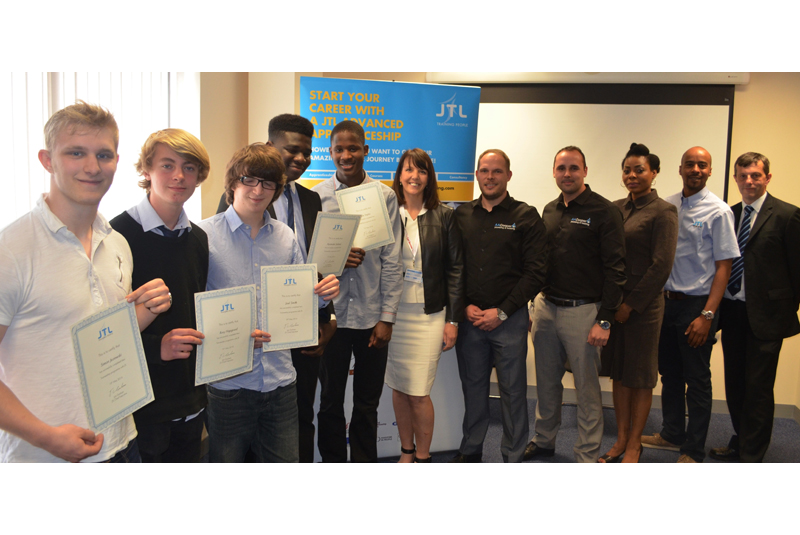 Six young people from the Orpington area of Kent recently graduated from the first Traineeship programme run at JTL's Orpington training centre.
Joel Smith, 18 from East Dulwich, Ayomide Daniel Ayorinde-Salami, 17 from Belvedere, Nyle Taylor, 18 from Norwood, Simon Jezewski, 18 from Swanley, Rory Hopgood, 17 from Bickley and Dion Nayhoe, from Bromley, took part in the first ever Traineeship programme in the area for potential plumbing and heating engineers.
A traineeship is a relatively new approach by government to raise the employability skills of many young people leaving school, or currently registered as not in employment, education or training (NEET). Young people aged 16 to 18 complete a 9 to 12 week programme that combines work preparation and associated training alongside up to four weeks of work experience with an employer.
Leading the work at Orpington is JTL's Stella Olufemi, who has presented the advantages of the scheme to both young people and to local schools and colleges.
"Employers have been quick to see the benefits in participating, as this provides a good way of trialling the enthusiasm and commitment of a young person to do well in one of the trades, and at a subsequent time to become a major asset to a business whilst completing an apprenticeship scheme," said Stella.
"They can see this as an opportunity for young people to gain valuable work experience in their chosen trades whilst gaining life skills that will help them progress onto an apprenticeship. This in turn will benefit employers by creating more job-ready apprentices."
The full programme includes work preparation – such as interview techniques, job search and interpersonal skills; functional skills – work towards achieving acknowledged competence standards in English, Maths and IT, if needed; up to four weeks work experience, either with one employer or a combination of employers; understanding building services engineering and the opportunities it presents; Health & Safety knowledge, including working at height; basic electrical or plumbing and mechanical principles and tool skills, both on site and within a workshop.
Both the workshop provision and the well-equipped classrooms at JTL's Orpington Centre have been utilised as part of the training, effectively engaging talented young people in learning, as opposed to distancing themselves from self-improvement.
Participation in Traineeships is at no cost to employers, but the young people do need a level of supervision to ensure that their experience is engaging and provides the necessary experience that will improve their prospects of work – either within building services engineering or in an alternative career route.
Overseeing this first Traineeship group was JTL's Martin Hick: "We are delighted that this first cohort has been successful and already one of the six has an apprenticeship lined up and another has real work experience to go to. It's early days and we look forward to helping the others into the next stage of their careers."
This first Traineeship programme at Orpington was sponsored by The Carl Burrows Trust and Carl's widow Nicky Burrows was at the presentations to witness the first successful Trainees get their certificates: "It was a very moving moment for me as it was great to see the Trust able to help these young men on the first steps of their careers in the heating and plumbing industry. Carl would have been very proud to see them – particularly the confidence with which these guys made short presentations about their work experience. A few weeks ago, I doubt any of them would have had the confidence to stand up in front of a room of people and make those presentations – it was heart-warming to be able to share in the certificate presentation event."
Attending the presentation was Andrew Ceolin, NEET Co-ordinator with the Bromley Youth Support Programme run by Bromley Borough: "We are hugely supportive of this programme and welcome any initiative that helps these young people towards a worthwhile career. We provide information and advice to 16-19 year old NEET young people and support them into Education, Training and employment."
One of the employers that participated in the programme – Ashley Cooper from AA Cooper Heating and Plumbing in Orpington – spoke warmly about the experience from his perspective: "When we were first approached about providing work experience for Simon Jezewski, we were not convinced. Our experience of work experience has not been very positive with those still at school, but when it was explained that this was an older lad who had been to college but who was looking for on the job support as part of the programme we agreed somewhat reluctantly to give him a go. The experience was very positive and we quickly realised that he was extremely keen and wanted to learn which was a breath of fresh air. We were so impressed that we have offered him an apprenticeship!"
The six learners all undertook work experience of very different kinds – Joel worked at Becton, near City Airport, on a site with J S Wright; Ayo had work experience with Swale Heating and is hopeful of getting an apprenticeship towards becoming a gas engineer; Nyle and Rory had work experience with J S Wright on a site at Nine Elms near Vauxhall. All the young men marked their Traineeship experiences at eight out of 10 or above.
JTL plans to continue running Traineeship programmes from its Orpington Centre to add to those it has been running for more than a year from its Birmingham Centre. "These programmes really do serve a purpose and help young people who are keen to get an apprenticeship but who need a little help to get to that level. We have proved we can do this and we intend to keep it going in the months ahead," said JTL's Martin Hick.