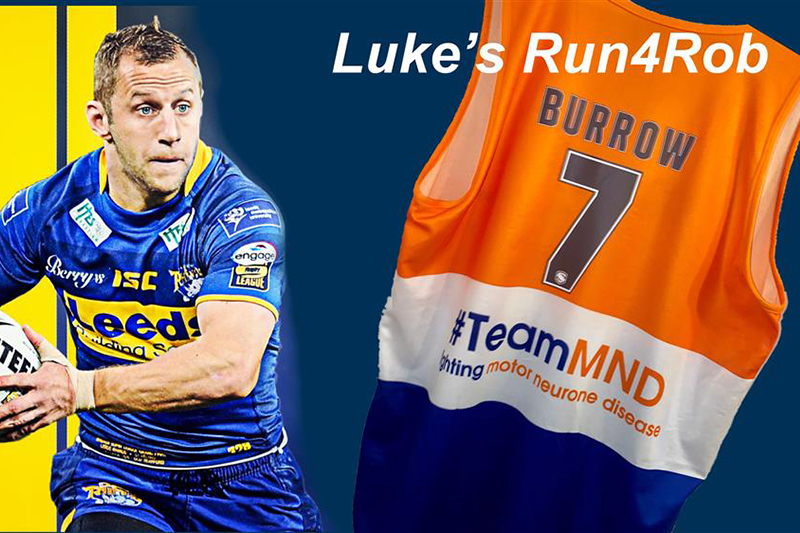 This April, plumber Luke Thomson is setting out on a gruelling marathon route inspired by the life and career of Rugby League legend Rob Burrow to raise money for the Motor Neurone Disease Association.
Luke explains: "Just over a year ago, it was devastating to hear of Rob Burrow's diagnosis of Motor Neurone Disease. Being [Leeds] Rhinos through and through, he was one of my idols.
"I'm also a Glasgow Rangers supporter, meaning it came as even more of a shock as the Rangers player Fernando Ricksen had lost his battle with MND just a few months before Rob's diagnosis.
"As I am a plumber I have also been working in a lovely gentleman's house who happened to be a Rhinos fan with MND too – this made me realise this illness doesn't pick and choose.
"Since the beginning of the first lockdown in March I found enjoyment in running and the constant daily running has helped me build up lots of strength both mentally and physically. For people that know me, they will know this is a big achievement. After living with a bone condition which causes multiple tumours to grow on my joints and having major surgery to my knee only a few years ago, on a personal level this is something I thought I'd never be able to achieve.
"I have been hugely inspired by Kevin Sinfield's recent work with his 7 marathons in 7 days, and all the awareness Rob and his family and friends are doing to raise the profile of MND. I was planning on joining an organised charity run to raise money for MND last year but because of COVID none have taken place, so I have decided to take one on myself this year.
"On the 3rd of April 2021, I will take on a huge challenge of a marathon from Castleford to Headingley. I will run from Castleford Tigers as I live in Castleford and Rob is a local lad. His last game before his retirement was also against Castleford. Then it'll be on to Featherstone Lions which was Rob's grassroots team as a youngster. I'll then continue on towards Wakefield – passing the Wakefield Trinity ground, towards Outwood and down to Leeds city centre – passing Leeds Beckett University, where there's a mural of Rob. Finally, I'll reach Headingley Stadium.
"I would be truly grateful if you could sponsor me in any way."
If you'd like to support Luke's marathon fundraiser, you can donate at www.justgiving.com/fundraising/lukesrun4rob
More info and updates are available via the Facebook group, and Luke is also seeking product and merchandise donations for a fundraising raffle.