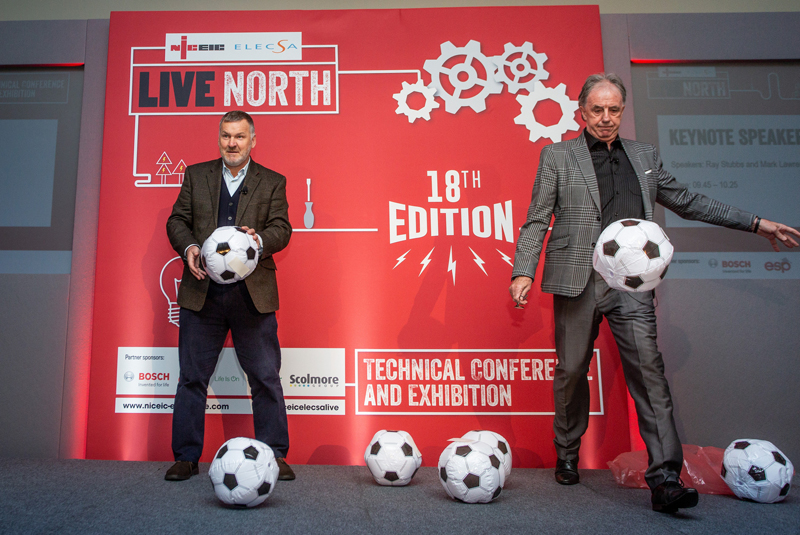 More than 450 electricians attended Aintree racecourse in Liverpool recently for NICEIC and ELECSA's Live North event, for a host of seminars and workshops designed to help electricians build their business.
With just over one month to go until the launch of the 18th Edition, contractors were able to access a variety of technical talks from some of the nation's leading electrical experts.
Footballing duo Mark Lawrenson and Ray Stubbs kicked off the show with a treasure trove of tales from their respective careers. Mark played more than 240 games for Liverpool and was a key part of the Reds' team that dominated domestically and abroad throughout the 80's. Ray, started off his career as a professional footballer for Tranmere, but later went on to become one of the UK's most successful sports presenters. They also discussed the importance of communication and teamwork when it comes to building a high performing team.
Mark said: "There was a mutual respect for everyone and we were never allowed to get complacent. We might have been magnificent in one game but we then had to repeat that standard again and again.
"That is the challenge electricians' also face. They have to keep up a certain standard each day and maintain or better that standard as they go forward."
Other sessions on the day looked at the upcoming changes within the 18th Edition of the BS7671 Wiring Regulations – specifically looking at the introduction of Arc Fault Detection Devices (AFDD's) and Surge Protection Devices (SPD's). There were also talks on smart technology in the home and mental health awareness within the electrical industry.
Billy Byrne, the resident electrician on BBC TV's DIY SOS was also a popular speaker on the day, talking about how he got into the industry and life on the show.
Attendees also benefited from some great deals in an exhibition hall, featuring some of the biggest names in the industry including Bosch, Brother, Schneider and Scolmore.
Mark Smith, Marketing Director for NICEIC and ELECSA, added: "We are just weeks away until the 18th Edition comes into effect so it was a good opportunity for contractors to come along and find out all of the information they need to know.
"We had a record number of visitors attend and that is testament to the importance NICEIC and ELECSA contractors place on keeping their knowledge updated and staying up to date with what's going on in the industry."