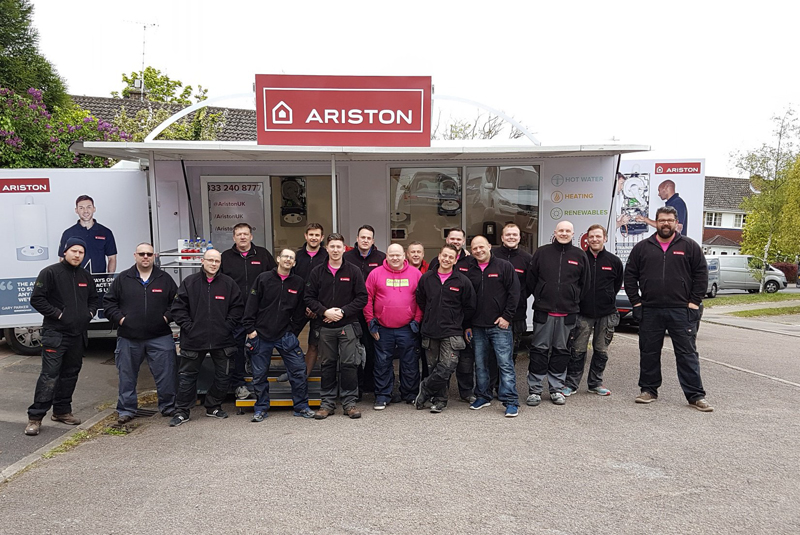 Ariston's support for the nationwide Gas Chat tour throughout 2017 successfully helped raise over £50,000 for children's cancer charity, Candlelighters. Ariston was the main sponsor of the tour, which visited 12 properties spanning from Land's End to John o' Groats throughout the year. The initial aim was to raise an additional £25,000 for the charity – yet over double this amount was eventually achieved.
At each stop of the tour, which called at locations including Bristol, Colchester, Leeds, Lancaster and Inverness, a property received a free Ariston boiler installation (including Ariston NET) in return for a donation to the Candlelighters charity. Every step of the way, local heating engineers and tradesmen who are members of the online 'Gas Chat' social media forum gave up their time to volunteer and assist with each installation.
Ariston donated 12 new E-Combi evo boilers, complete with 8-year warranties and Ariston NET controls, to the deserving cause. Plus, Allan Carrick, National Technical Sales and Quality Manager for Ariston, was on site at every stage of the tour, providing technical backup and support to all the regional engineers involved.
Reflecting on last year's achievements, Allan said: "It was fantastic to support and be involved with the Gas Chat tour. Seeing so many installers come together from all over the UK to join forces for such a worthy cause was absolutely brilliant. All the engineers that took part were incredibly generous and professional, delivering a series of high quality boiler installations to be proud of."
He continued: "The amount of money we were able to raise for the charity from these 12 projects was just outstanding. For a group of industry professionals to get together like this via social media was amazing in itself – then to raise over £50,000 was extraordinary! The amount of hard work that went into this project is testament to the heating industry, and the Gas Chat Tour has certainly left behind a remarkable legacy."
Candlelighters raises over £1million every year to fund a number of services that offer practical and emotional support to children with cancer, throughout Yorkshire, and their families. Helping to raise these funds is Allen Hart, a Registered Gas Engineer from Guiseley, who began providing charity installations in memory of his daughter, Laura Hart, who sadly lost her battle with a rare form of cancer in 2007, aged just three years old.
Commenting on the tour initiative, Allen Hart said: "I'd like to thank Ariston for being so generous in donating the boilers and for the company's ongoing support to Candlelighters. I'd also like to extend my thanks to the local members of the 'Gas Chat' forum for generously giving up their time to participate in each installation."
For more details, visit: www.ariston.co.uk. For more information about Candlelighters, visit: www.candlelighters.org.uk