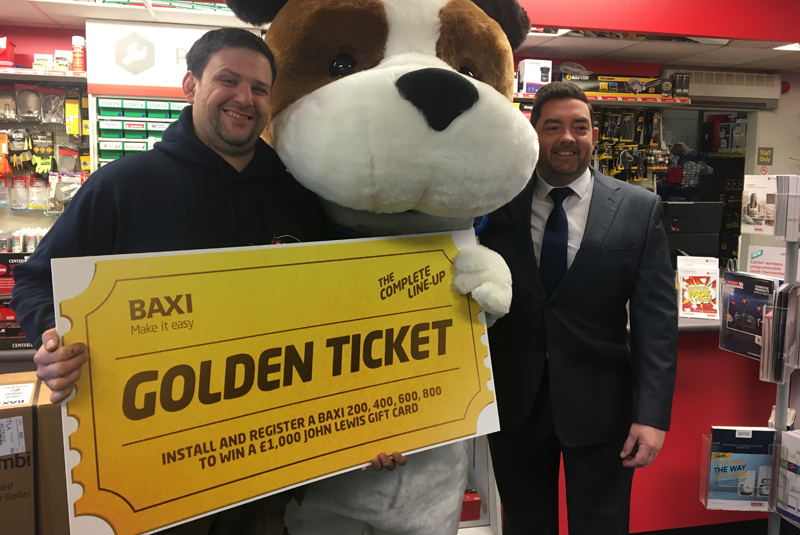 Michael Cockcroft, Director of Centurion Plumbing Services Limited, Sleaford, has won the first Big Baxi Bonanza Golden Ticket prize draw. He bought the winning boiler, a Baxi 600 Heat, from the Sleaford branch of Wolseley. All the Baxi boilers registered on Baxi Works loyalty scheme during the first week of January were entered into the draw, and the winner was drawn at random at the end of the week.
Michael's Baxi representative, Matt Seaman, and Baxter the Baxi mascot surprised Michael when he visited Wolseley to stock up on materials for his next installation. They presented him with a £1,000 voucher for a well-known high street store.
"I am lost for words," said Michael. "This is fabulous! My wife Amy is also a director of the business, and she will be over the moon too. She will have spent it all by the end of the day. I think I'll treat myself to a golf watch I've had my eye on.
"Baxis are the only boilers we install and the 600 Heat is the absolute best, but I do love the new 800.
"The boiler that won was the 19th Baxi boiler we've registered in the last year. We are installing our 20th boiler next week, then we will be eligible to be a Baxi Approved Installer. We are really happy about that!"
Following the success of the Baxi Bonanza, which took place during September, October and November last year, Baxi 200, 400, 600 or 800 boilers registered on the Baxi Works loyalty scheme between 3rd and 30th January 2020 will be entered in to the Big Baxi Bonanza Golden Ticket prize draw.
Michael's is the first of four Golden Tickets. Winners will be picked at random each week and will receive a high street gift card to the value of £1,000.
www.baxi.co.uk/trade/baxters-blog/golden-ticket-prize-draw