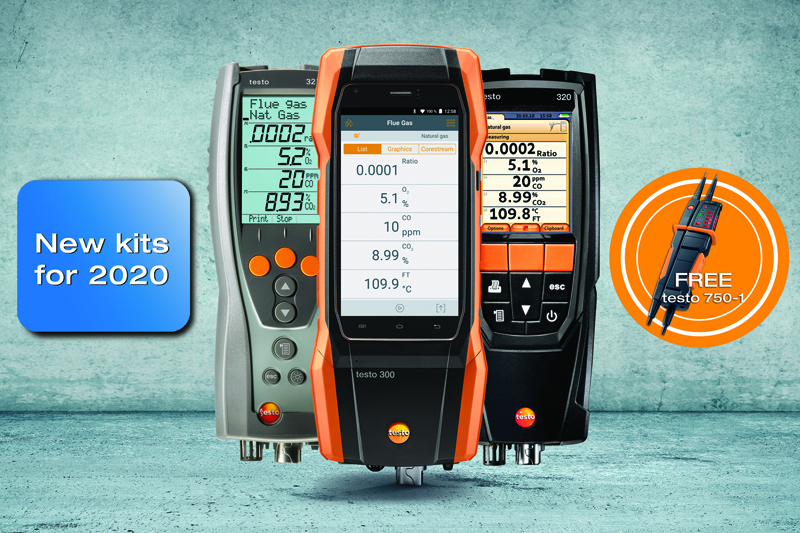 Testo has released six new analyser kits available from this month. To launch these new kits, Testo is giving away a free Testo 750-1 Voltage Tester with each kit.
Flue Gas Analyser kits
Testo 327, 320B and 320 bluetooth analysers will all be provided in new standard kits and new advanced kits. The standard kits will now all include a robust soft case complete with shoulder strap. The new soft cases have plenty of space to hold the analyser, probe and a range of accessories, with the shoulder strap making it more convenient to carry into properties.
Advanced kits for all three analysers include a new range of pipe clamp probes which are much quicker and easier to attach to pipework compared with earlier probes. They have NTC thermocouples which are more accurate and stable. With jaws that fit pipework ranging from 6 to 36mm, and with a 1.2m cable on each probe, these sets can be used on virtually any domestic heating job and most commercial applications too.
Safe electrical isolation
Until the end of April 2020 these new FGA kits, and all Testo 300 & 300LL Smart Flue Gas Analyser kits, will be delivered with a free Testo 750-1 Voltage Tester. A voltage tester is an important safety tool for gas engineers to check the safe isolation of boilers and other electrical appliances before working on them. The Testo 750-1 has a number of safety features, including a 360° display which lights up when voltage is detected.