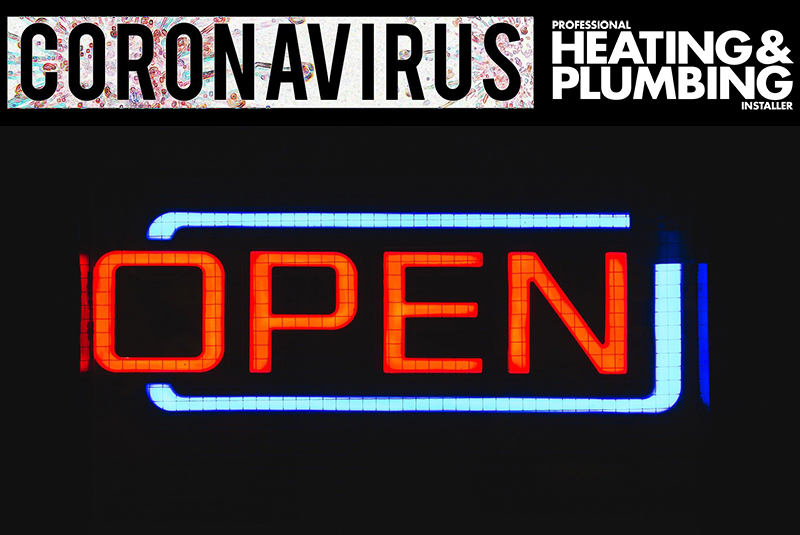 While it may be difficult to keep track of exactly where manufacturers stand with regard to business operations, we'll do our best to update this post so please check back regularly.
Grant UK
Q. Is Grant Engineering manufacturing products?
A. Yes. Grant Engineering's manufacturing plant in Ireland is currently still in operation and all Vortex and VortexBlue boilers are being manufactured.
Q. Is Grant UK despatching orders?
A. Yes. Although many of Grant UK's employees are currently working remotely, a skeleton staff remains in operation in Devizes which includes the Warehouse Team. Orders that are placed with Grant UK are therefore being processed and despatched as normal.
Q. Are the Technical and Customer Service Teams operating?
A. Yes. Grant UK's Technical and Customer Support teams are working remotely but are still available to answer calls and emails between the hours of 8.30am through to 5pm Monday to Friday.
Q. Are Grant UK's in-house Field Service Engineers working?
A. Grant UK's inhouse Field Service Engineers are attending emergency breakdowns only. When Grant UK's Field Service Engineers attend site, they will be following the strict social distancing and hygiene procedures currently in place to ensure that both they, and the customer, are protected during any visits.
Q. If a household has to self-isolate during the coronavirus outbreak and is therefore unable to have their Grant product serviced, will the product's warranty be affected?
A. Grant UK fully understand that some customers may have to self-isolate for a considerable period of time and as such, will not be able to have their Grant product serviced. We are therefore issuing the following guidance.
While it remains important for all appliances, cylinders, stores, tanks, fuel lines and ancillary components to be serviced annually, Grant UK will continue to honour all warranties (on both Standard and Extended) beyond the normal service date up to the 31st July 2020 whether the appliance is serviced or not. This extension relates to Grant oil boilers, Grant Biomass boilers, Grant Aerona Heat Pumps and Grant Cylinders/Thermal stores.
This date may change in line with the recommendations of the UK Government and current information can be found here.
Q. Are the G1 Team still operating?
A. Yes. Grant UK's G1 Team are currently working remotely, but fully contactable by phone or email and can assist G1 Installers with any queries they may have regarding their membership. Simply call 01380 736920 or email [email protected]
Drayton
"I think it's fair to say that everyone is in uncharted waters. Coronavirus impacts every person, every town and every business around the world. No one can make any promises about what the next few months will bring, but I want to reassure you that at Drayton we are, and will continue to do everything we can to manage this situation the best we can.
"The welfare of our team and customers is of utmost importance. We are continuing to follow government guidelines and are closely monitoring events to avoid any unnecessary disruption for you, our valued customers.
"Given our UK manufacturing location and the plans we have already implemented we are currently still able to fulfil new orders of Drayton products, and will do everything we can to maintain this.
"Technical support are operating remotely and as such we're not able to offer our usual level of support via the phone, but can still be contacted by email on or via Twitter .
"Going forward we are monitoring all developments closely. We have a steering committee that will act quickly in response where needed to ensure we are doing everything possible to support our employees and customers through these challenging times. We will keep you updated should anything change that will impact you.
"There is no denying there are challenging times ahead, but I really believe that as a nation we will come out the other side better prepared, more aware and stronger than ever.
"Stay safe and stay in touch."
Remi Volpe, Managing Director
Ideal Boilers
Important Notice; Due to the recent government announcement, we have made the decision to close the business apart from essential services until further notice.

We are here to support you in any way we can.

Visit our website for further information: https://t.co/i9On6fzMit pic.twitter.com/6g684dnJJ1

— Ideal Boilers (@IdealBoilers) March 24, 2020
Vaillant
We'd like to update you about our position with the ongoing coronavirus (COVID-19) situation.

For further info click here https://t.co/KN19TuS6uP pic.twitter.com/HJceon5Elh

— Vaillant UK (@vaillantuk) March 18, 2020
Worcester
To help ease your concerns we have answered some of your most pressing questions. https://t.co/PE6lU7vj3a pic.twitter.com/e9dNnY70ay

— Worcester Bosch Professional (@WorcesterBosch) March 24, 2020
NIBE
Following Prime Minister's statement last night, we would like to reassure you of the steps we are taking to keep our customers, our employees and our engineers safe during these uncertain times. To read the full statement visit 👉https://t.co/or8RaCM2Lt pic.twitter.com/BW8XLzDZDh

— NIBE Energy Systems (@NIBEEnergy) March 24, 2020