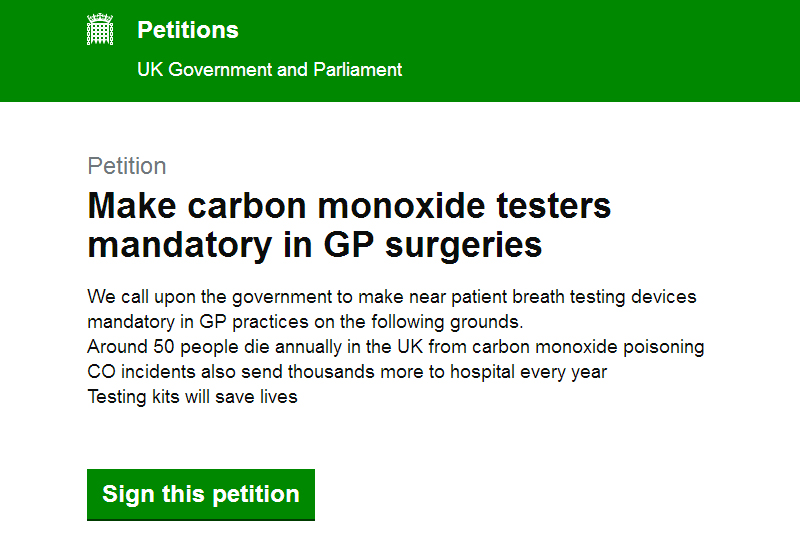 CORGI HomePlan has ramped up its carbon monoxide safety campaigning with the launch of a government petition that will enable GPs to make speedier diagnosis of the condition. It is calling for the installation of carbon monoxide testing devices in all GP surgeries and is urging everyone connected to the industry to sign and support it.
The £175 a time piece of equipment will provide family doctors with the capability to test for the presence of CO in patients who present with the symptoms of poisoning – such as headaches, nausea, dizziness, vomiting, weakness and chest pain.
Last year, CORGI HomePlan initiated a freedom of information request to uncover the numbers of people attending hospital A&E departments with CO poisoning, with the figures revealing four people a day are treated for symptoms.
Dr Helen Webberley, a family GP based in Abergavenny in Wales, says: "As these symptoms can be confused with so many others, we need to ask the right questions to identify if a home appliance such as a cooker or boiler may be causing the symptoms. It is also crucial to carry out a test, and the near-patient tester undoubtedly has the potential to save many lives."
CORGI HomePlan has committed £125,000 to date on awareness and prevention campaigning around CO poisoning. This includes research, construction of a safety microsite, freedom of information requests, PR and marketing activity and distribution of carbon monoxide alarms.
Kevin Treanor, director of CORGI HomePlan, says: "Every death from carbon monoxide poisoning is preventable. By raising awareness of correct boiler maintenance and the importance of CO alarms in the home, CORGI HomePlan has demonstrated its commitment to improving safety.
"Quick and accurate diagnosis of CO poisoning is also massively important and will save lives. By giving GPs the tools to make the right diagnosis, public health will undoubtedly be improved. I would urge everyone in the industry to sign and share this petition."
The Gas Industry Safety Group, Northern Gas Network, Katie Haines Memorial Trust and Dominic Rodgers Trust have already pledged their support to the petition.
CORGI HomePlan's petition has until October to gather enough signatures to warrant a government response or house of Commons debate.