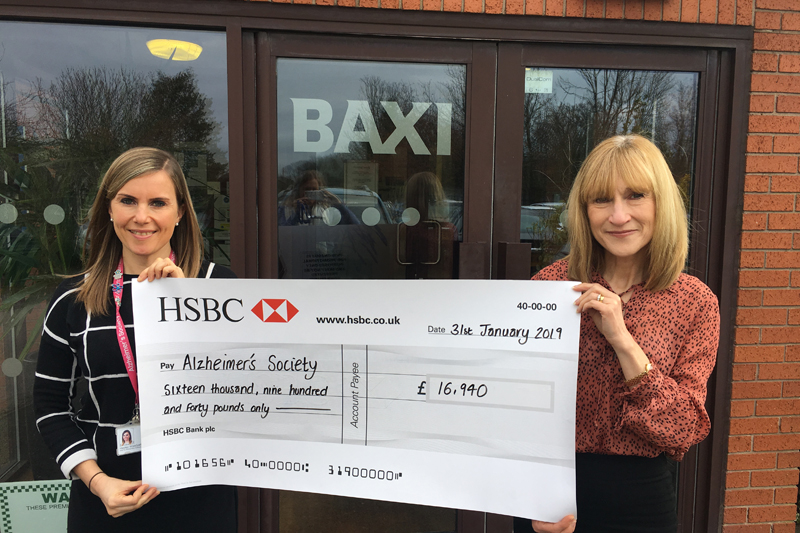 Colleagues of Baxi Heating have baked, run, cycled and dressed up to raise money for charity partners, Alzheimer's Society and the Alzheimer Society of Ireland.
People from all Baxi Heating's UK and Ireland manufacturing and office sites have taken part in activities to help the charity.
Hayley Woodyatt, Senior Regional Corporate Partnerships Executive, Alzheimer's Society, said: "Baxi Heating's achievements over the last 18 months are a testament to all their colleagues. They have been innovative with their ideas and have kept people affected by dementia at the heart of everything they do. This has resulted in a phenomenal £42,670 being raised for Alzheimer's Society to date, and they have also made great efforts to raise awareness of dementia by rolling out Dementia Friends across their organisation."
Heading up the CSR activities for the business is Maureen Tallis, who presented the latest cheque to Hayley for £16,940: "As a business, we recognise that it is important to give back to the communities in which we work.  Our people arrange and take part in fundraising activities at each of our sites and we never cease to be amazed at their dedication and the variety of their schemes.
"For example, our Norwich colleagues organised a circus, complete with big top and ringmaster, while others have cycled hundreds of miles or organised bake sales to raise money for the Alzheimer's Society."
Hayley added: "The money they have raised to date, and continue to raise, will help so many people across the UK affected by dementia. By 2021 there will be 1 million people in the UK living with the condition and it is only through the support of individuals and businesses like Baxi Heating that we can unite and take on dementia, together."