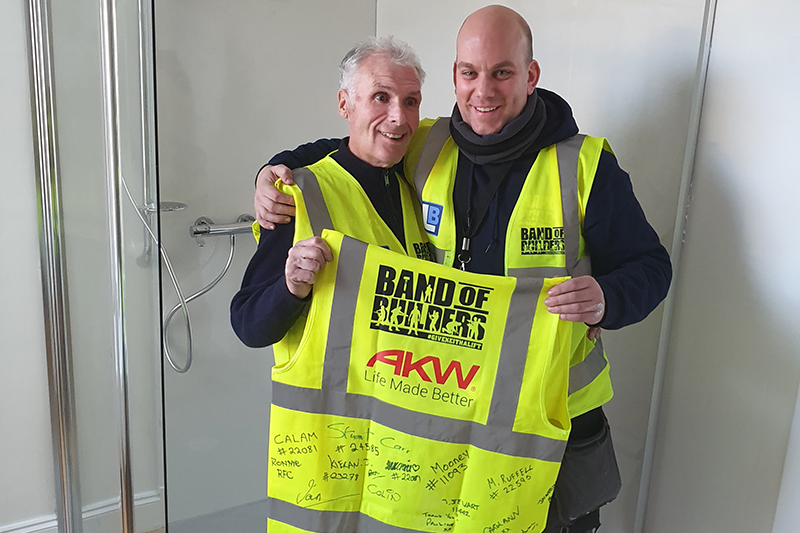 Band of Builders has built its reputation as a charity on uniting members of the construction industry through the simple desire to help others. In its latest bid to help a Scottish plumber with Motor Neurone Disease (MND) live out the remainder of his days comfortably at home, it has partnered with AKW, one of the UK's leading providers of accessibility solutions, to fit out the family home with an accessible wet room.
Ronnie Macleod was diagnosed with advancing Motor Neurone Disease (MND) in June 2018 following tests for deteriorating speech. Tragically, on the day of his diagnosis with MND, his son was also diagnosed with oesophageal cancer and died at the age of 40. Ronnie's aggressive form of MND is known as Progressive Bulbar Palsy (PBP) which involves the brain stem and it has led to difficulties with speech and swallowing.
Following his release from The Prince and Princess of Wales Hospice in Glasgow, it became clear that the family home needed a downstairs wet room to provide for Ronnie's ever-increasing physical needs. Band of Builders heard about Ronnie's challenges and wanted to do everything they could to help.
A team of seven volunteers came together to carry out the work to transform a downstairs room into a wet room. Keen to offer its support, AKW provided everything needed to equip the wet room. As part of 'AKWOne' – AKW's one-stop shop for fitting out accessible bathrooms – the company was ideally placed to meet Ronnie's needs. AKW donated an AKW ARKA Care Thermostatic Mixer Shower and AKW TuffForm shower former. It also provided AKW's wall panels, anti-slip vinyl flooring, piping, plywood sheeting, 3×2 treated timber, raised height toilet with ergonomic toilet seat and semi-recessed hand basin with mixer taps for the wet room installation.
Andrew Woore, Midlands Business Development Manager at AKW, comments: "When Band of Builders approached us asking if we wanted to get involved with helping Ronnie, I understood what the family was going through, as my own father suffered with MND. I am so pleased that we have been able to provide the entire wet room via our AKWOne one-stop shop service. By helping Band of Builders in this way, we have played our part in making life better for one family, something we are passionate about here at AKW."
The wet room installation, carried out over three days, has created a fit for purpose bathroom at Ronnie's family home in Glasgow.