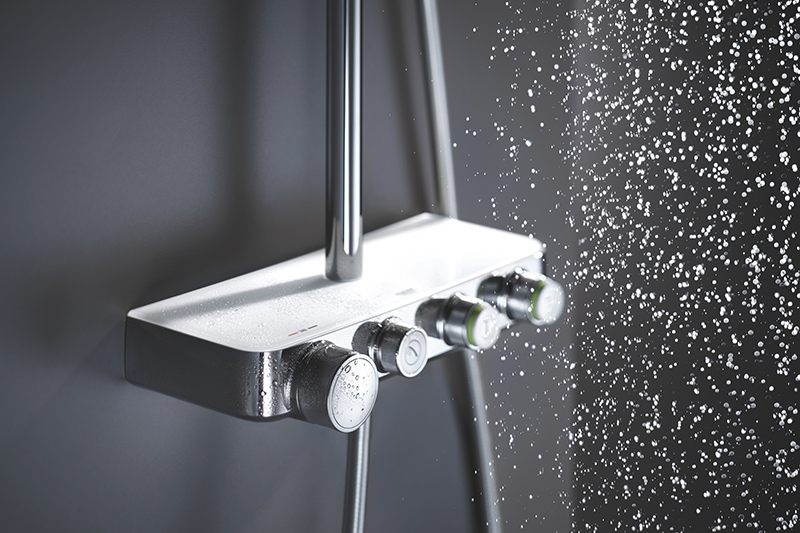 Following a survey commissioned in June last year on consumer showering habits, Grohe's UK Training Manager, Adam Logan, dissects some of the latest showering trends and what installers can expect to see gracing bathroom projects this year.
Which bathroom trends are currently shaping customer demand?
Formerly considered as just a functional space, the bathroom has become increasingly considered as a tranquil retreat. The results of our showers survey in June highlighted that almost half of us are now viewing the bathroom as a space for wellbeing, relaxation and recovery whilst 40% also agreed that the bathroom is a place of isolation where they go to seek some time alone. The impact of the COVID-19 pandemic will have accelerated this trend over recent months as more and more homeowners try to create an at-home sanctuary or space for wellbeing within their immediate living space.
The pandemic has also meant the bathroom has been under much more scrutiny for its hygiene credentials and consumers have been seeking solutions to improve the hygiene and cleanliness of this key space. Much remains to be said as to how this will unfold throughout 2021 however, we anticipate that this heightened awareness around hygiene will remain at the forefront of purchasing considerations for the foreseeable future.
Another key trend that is rapidly growing in the bathroom market is the growing awareness around water consumption and consumers becoming more eco-aware, understanding how their individual lifestyle can impact the planet. We think this trend has also been ignited by the surge of smart water meters which is alerting many homeowners to their water consumption and spurring them on to find solutions that are less impactful. Our survey highlighted that 42% of us like to enjoy long showers so we know that there is definite demand to provide solutions that enable a luxurious experience that use less resource and are kinder to the environment. Furthermore, more than half of those surveyed admitted that they like to try and save water whilst showering and would like a shower than can assist them in being sustainable in their day-to-day life.
Which areas of the showering market are performing strongly?
Consumer priorities around space-saving or optimising the space they have along with design trends in minimalism have meant that concealed shower installs are becoming ever-popular for larger bathroom renovation and refurbishment projects.
In the UK, we are no strangers to small or awkwardly shaped bathroom spaces. Concealed showers can provide a lot more flexibility when it comes to creating a customer's dream bathroom without requiring extensive work or knocking into other rooms within the home. The ability to place the trim or shower controls on an opposing wall to the head shower means installers can make the best use of the space and tailor the installation set up to the best interests of the customer and the individual space limitations.
How important is personalisation becoming for the showers market?
Personalisation is a growing area of the showering market, which we predict will grow exponentially as the trend for wellbeing inspired bathrooms continues to soar this year. Our latest research concludes that 67% find showering restores their energy whilst 1 in 4 said that the first thing they do when feeling stressed is take a shower.
With this in mind, we know that consumers are using the shower to help improve physical and emotional wellbeing so having enhanced features that allow them to tailor their shower experience every time to suit their needs will become of growing importance.
What updates are at the top of consumers' wish-lists when it comes to improving the shower space?
The biggest response from our research was that 43% would like to replace their adjustable shower head on their current existing system in the near future. We've invested a lot into our retrofit shower heads over the past 18 months, developing new products that use technology such as Bluetooth connectivity and a more expansive range of shower sprays to enable consumers to still create a really powerful and impressive shower space even when they aren't renovating the entire system.
Meanwhile, the demand for replacing a complete system still remains strong with more than a third of people seeking a full refurbishment of their current shower.
What features do homeowners value most in a shower?
According to Grohe's survey results, the top five features homeowners value most in a shower are:
– Cool surfaces: 78% want a shower with a surface that doesn't get too hot whilst showering
– Safety: 73% want a shower that is safe for all the family to use
– No more drips: 69% consider it important that a shower doesn't drip once turned off
– Thermostatic: 61% like thermostatic showers so they don't have to put up with temperature fluctuations
– Rain showers: 54% want a larger shower head that offers full body coverage when showering, such as a rain shower