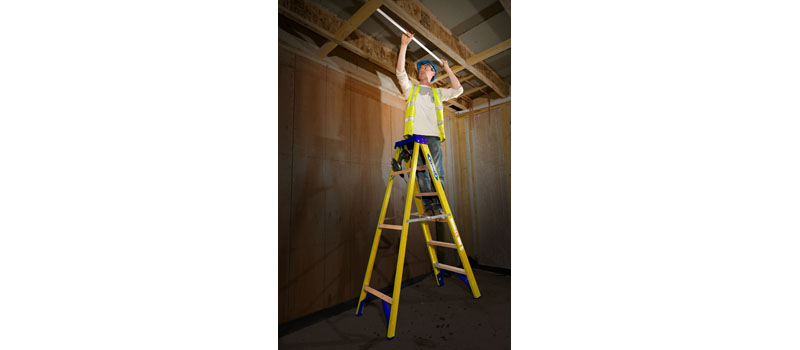 Chris Filardi, VP of Marketing at Werner, says fibreglass is the best option for climbing equipment, no matter what your trade.
In 2012/13, falls from height were the most common cause of fatality in the workplace, accounting for nearly one-third (31%) of deaths. In total, there were 46 fatalities, and 11,506 major injuries, most of which were in construction or related sectors.
These shocking statistics underline the importance of following working at height guidelines while choosing the safest access equipment available.
When it comes to selecting a ladder, most professional tradesmen will reach for an aluminium model, often driven by the huge variety on shelf, coupled with affordable price points.
Fibreglass, which is non-conductive to 30,000 volts, is normally set-aside for utility workers or electricians. Compared to wood, it is 20% lighter, and won't absorb moisture, which could impair non-conductivity and lead to rot. But what about builders, roofers and installers?  You may not work directly with electricity, but if electrical wiring is on site – and in most cases it is – so is the risk of electrocution.
What you may not know is that alongside non-conductivity, fibreglass is strong and durable, making it a safe choice for climbing equipment, whatever your profession.
Unlike aluminium, fibreglass is highly resistant to dents, so it is able to withstand the rigours of wear and tear on a challenging job site. It is resistant to weathering, won't weaken with corrosion or rust, or suffer loss of strength or integrity when exposed to water. As a result, fibreglass is a safe choice that will last for generations.
Werner is the world's largest manufacturer of fibreglass ladders. The manufacturer's range features rails made using a proprietary pultrusion process which creates a seven-layer construction that is uniform and inherently strong.
The patented rung to rail connection ensures that Werner's extension ladders won't twist as you climb, while a special edge moulded brace and footpad combination on the company's stepladders enhances bracing strength and protects the base tread from damage if the ladder is dropped.
To aid productivity, the fibreglass extension ladders feature comfortable D-shape rungs, while the stepladder tops enable the safe storage of tools and equipment. Werner's lock-in accessory system, which complements the stepladder tops, accommodates an 11kg-load job bucket, utility hook and tool lasso, so you can tailor your work area to the job at hand.
With second-to-none strength and durability, fibreglass has the potential to revolutionise site safety, no matter what your trade.