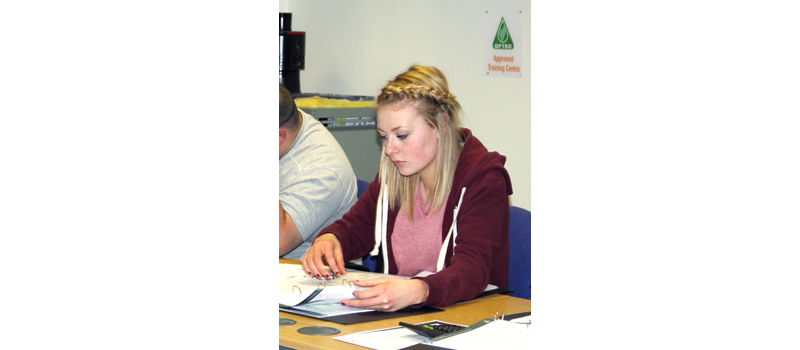 Apprentice, Tia Allen – one of the youngest women working in the oil industry – recently took her OFTEC 101/105E/600A qualifications at the Grant Training Academy in Devizes, Wiltshire.
Since leaving school, 17 year old Tia has worked full time for Dan North Ltd, having achieved NVQ Level Two in plumbing, and is now diagnosing and servicing Grant boilers.
"She has proven to be very talented and knowledgeable, with a real flair for this industry and, as such, Dan decided she is already capable of sitting her OFTEC qualification," explains Anna Wakefield, Marketing Manager for Grant UK. "She has already attended all of our oil courses and has done extremely well."
"I really enjoy servicing and attending break downs on oil boilers as I get to meet a variety of people and I like the challenge of seeing how fast I can get the boiler back up and running," explains Tia. "The job is also really rewarding as it's always nice to put a smile back onto the customer's face. I have found that customers are surprised at first to see a lady coming to look at the boiler but after the standard questions have been asked they are happy and, if anything, more comfortable to let me get on and fix their boiler!"
Dan North Ltd is a G-One Installer, meaning the company has trained specifically to fit Grant products, and consumers can be confident that their renewable heating or hot water system will be installed to the highest possible standards by a manufacturer's certified installer, ensuring the best efficiency, reliability and return on their investment. Dan North Ltd specializes in Oil & LPG boilers, covering a large area from Cirencester all the way down to the New Forest.
Grant UK's purpose built facilities feature an extensive oil boiler training workshop and a renewables training and assessment area, complete with a full size training roof, working solar thermal, Vecta and Spira biomass boilers, air source heat pump, solar thermal system and unvented hot water training and assessment rigs.
For more details on Grant products, visit the award winning website at www.grantuk.com.