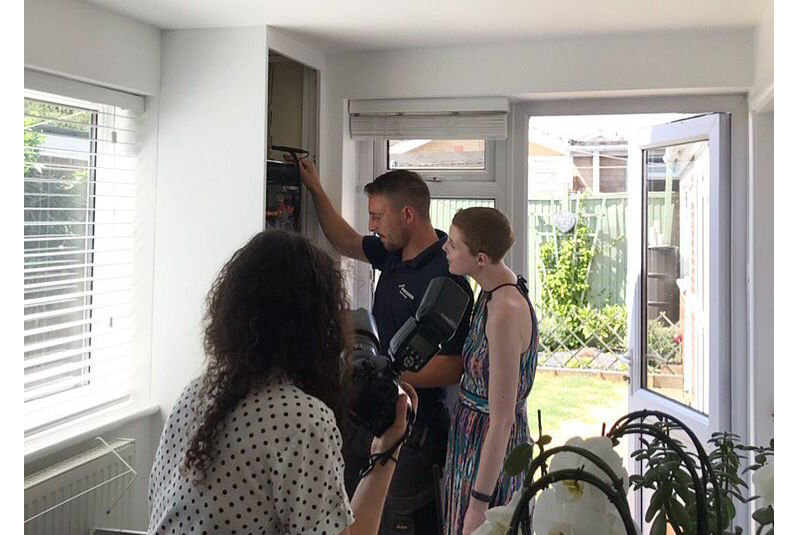 Stuart Duff speaks to Tom Selby, an installer from Nottingham who's on a mission to raise funds for Jadi Best, who has been fighting cancer for a number of years.
Tell us a little about yourself and your background in the trade? What made you want to become an installer and what was your route into the industry?
My name's Tom Selby, I'm 30 years old from a small town called Bingham, Nottingham. I started as an apprentice with my dad, Julian Selby, after leaving school in 2004 – although I've been going out to jobs and trying to help for as long as I can remember.
I attended NCN Basford Hall Collage, walking out after three and a half years with NVQ L2 & L3 plumbing, Water Regs, G3 unvented and my ACS – allowing me be Gas Safe registered.
I always knew I was going to follow in my dad's footsteps, I don't know what I'd be doing otherwise.
You're Gas Safe and OFTEC registered. How is your workload split between gas and oil?
Gas work is by far the busiest part of our workload while oil provides a small percentage. I enjoy the variety of gas and oil work; we also do bathrooms and general plumbing.
My favourite part of the job is heating systems, whether it's new installations or breakdowns, as I enjoy problem solving!
What's your marketing strategy for the company? Is social media used and how useful do you find it? Do you have any advice for fellow installers?
The vast majority of our marketing is by word of mouth; the customer base we have has been built up since 1990 after Julian (my dad) set up J T Selby Heating, Plumbing & Gas.
We have an ongoing advert in the local Butter Cross Parish Magazine and we have a Facebook business page, an area we are concentrating on more recently given the increase in social media usage.
I use Instagram and Twitter a lot (probably too much) to network with other engineers all over the country.
Over the last year we have been trading on Tradectory, which is a great as it showcases some of the best jobs from a number of trades.
My advice for other installers is to do the highest quality work you can and ask for help if need it. One thing I've discovered is that there are a lot of helpful, experienced engineers on social media always willing to give sound advice. Also, always get back to customers… no matter what!
You've been fundraising for Jadi Best, who has been fighting cancer for a number of years. Can you tell us about what you've been doing and how other installers can help?
Over the last few months, I have been fundraising to help a childhood friend of mine, Jadi Best, with her battle for cancer and new treatment.
I decided to offer boiler services for £50 on the basis that clients donate the charge to The Jadi Best Fund.
Since offering this service to NG postcodes, advertising though social media and again word of mouth, I had numerous engineers up and down the country getting in touch and wanting to help. They too are offering the same boiler service to clients for donations to The Jadi Best Fund. A massive thanks to all those involved and supporting!
Please follow us on this journey as we continue raising, donating and supporting to smash the target set for Jadi:
www.facebook.com/JadiBestTheStory
www.instagram.com/selbyheating
If you'd like to donate, click here.