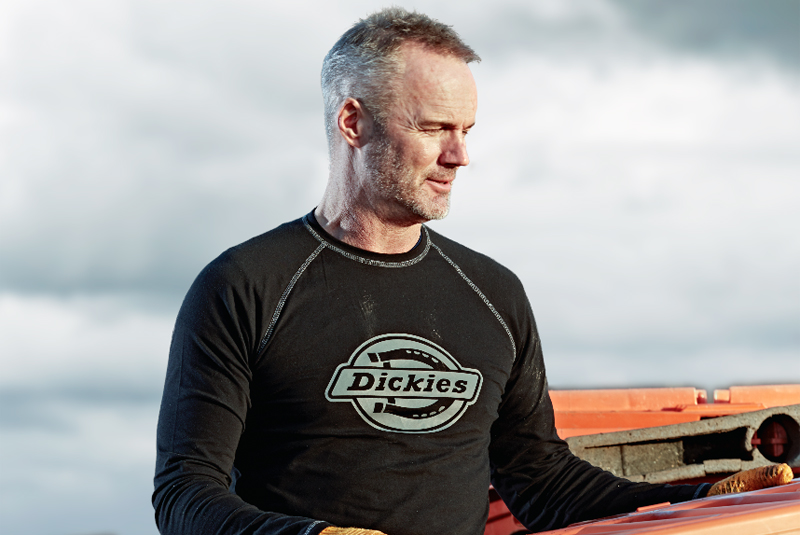 James Whitaker, Marketing Director at Dickies, shares his top tips on choosing workwear this winter.
You wouldn't set out on a job without the right tools and, while workwear may not require the same level of investment as the items in your toolkit, taking some time to make sure you're wearing the right kit for the job can make a big difference to your working day.
This holds particularly true during the winter months, when factors such as protection against the elements and the need to stay visible in reduced daylight can have a big influence on what you wear to work.
Here are my tips on what you need to think about before buying your next item of winter workwear:
Tips for tops
From t-shirts to polo shirts to sweatshirts and hoodies, there's a top for every workwear need – and season. Trapping body heat by adding a thin thermal layer under your clothes is a tried and tested way to keep warm in cold conditions. For plumbers who often spend their days working in both indoor and outdoor environments, look for options such as the Dickies Atwood as a starting point – this forms part of Dickies' thermal baselayer range, but the iconic Dickies logo and contrasting seam stitching make it a stylish option in its own right should you need to remove outer layers.
Hoodies are always popular among tradespeople looking for a casual, comfortable choice and, if they're well-coordinated, they can help to cultivate a more 'professional' image. A number of workwear ranges include hoodies that are easy to match with other items – such as the Dickies Arkley style – creating a relaxed, yet smarter look that works especially well for teams of tradespeople who want to wear the same 'uniform'.
The crucial mid layer
Invest in a good mid layer that keeps the body's core temperature stable while adding versatility to your outfit. A fleece or padded bodywarmer should fit comfortably under any outerwear and can be worn as a final layer on their own on milder days, or when working in colder indoor environments.
Jackets for all seasons
While waterproofing and breathability are two properties that don't always go hand in hand, today's fabric technology means you can choose jackets that offer both, allowing you to stay as dry as possible both inside and out. For example, we've just launched the new Atherton pilot jacket, which is waterproof to 8,000mm and breathable.
If you're likely to be working outdoors over the coming months, visibility is a priority. Our own innovations in this area include the Wakefield, a jacket that appears just like a typical soft shell design, but becomes reflective in poor lighting conditions – allowing the wearer to be visible without compromising on style.
Best foot forward
If there's one item that's really worth investing in, it's what you wear on your feet and the variety of footwear currently available means you can find something that's truly fit for purpose.
Waterproof boots and shoes naturally come into their own at this time of year and the variety of footwear available today should allow you to find options that meet your usual priorities – such as flexibility for bending and stretching – while keeping your feet dry. Again, look for both waterproofing and breathability for maximum comfort.
It may sound obvious, but my point on insulation applies to your feet too, so choose thermal socks for extra warmth.
A note on accessories
Half finger gloves are a perfect solution for those needing hand grip in cold conditions. Our own range includes the Dickies Argon Skytec glove, which provides two layers of insulation, excellent grip in wet conditions and flexibility in very cold temperatures.
With the right workwear, you should be ready to do your job in whatever conditions nature might throw at you this winter.