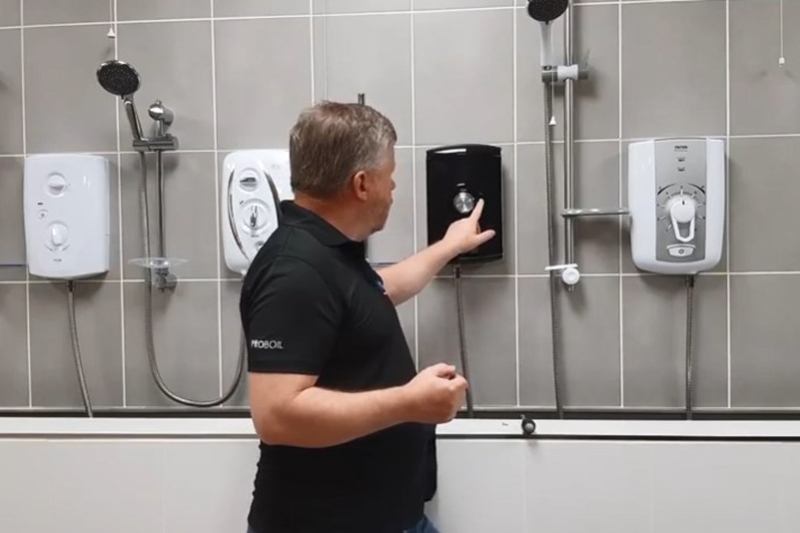 Paul Rowley, Approvals and Training Manager at Triton, explains how to solve a commonly asked question about the company's products.
My customer has complained that the water from their electric shower is not hot enough? What might be causing this?
Users struggling to get their shower to a temperature they feel comfortable with is a common issue. This could be a result of the commissioning procedure not being followed correctly, which leads to the temperature knob being misaligned with the valve behind it.
Step one: To rectify this, turn the power on and press start. When water begins to flow from the shower, it should automatically go to the highest heat setting. The temperature control has finite movement, so if it's turned fully clockwise it should be at its highest temperature.
Step two: Isolate the electricity supply, remove the cover screws and lift off the cover. This will move the temperature dial away from the valve behind it. Then turn the dial anti-clockwise and re-fit it with the valve so that the two are well connected.
Step three: Now turn the dial as clockwise as it will go, which will re-position the valve. Then lift it back off, turning it so it's also in the fully clockwise position as it may not have completed the full range of movement while attached to the valve. Next re-engage the two components, now that they are in the correct positions, by fitting the cover back on and inserting the screw back at the base.
Step four: Apply power and turn the shower back on, twisting the dial fully clockwise to the highest temperature. It will take about 20 seconds for the water to reach the maximum heat level. The temperature reading from the repaired shower should show around 41 to 42°C.