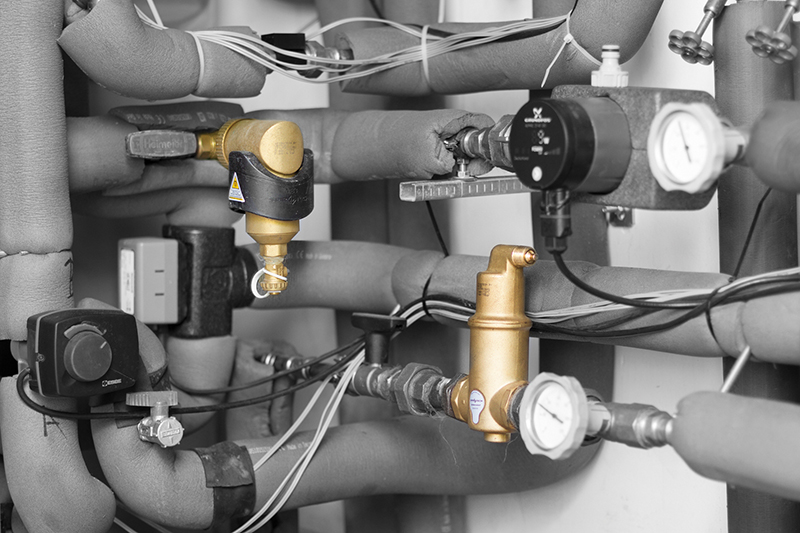 Spirotech UK's Dave Goodyer discusses how installers can use Spirotech's Better Heating hub to explain the importance of installing deaerators and dirt separation units to homeowners.
In a recent consumer survey, Spirotech discovered that over 90% of homeowners expect to spend more time at home this winter, as a result of COVID-19 lockdown restrictions, with working from home still on the cards for many people. Consequently 60% of the respondents revealed their concerns regarding the reliability of their current heating system and whether they might possibly encounter any untimely breakdowns during the colder months.
With this in mind, the results found that an encouraging 70% of homeowners were open to investing in new products that would protect their boiler and the overall health of their heating system. This figure shows the opportunity that heating engineers currently have to recommend units such as the SpiroVent RV2 deaerator and SpiroTrap MB3 dirt separator during the quotation process that will help to improve the reliability and efficiency of domestic systems.
Whilst the research suggests homeowners are open to investing in system protection measures, Spirotech recognises that heating engineers often have to work hard to convince customers of the benefits of dirt separation and particularly deaeration, which remains less well known.
Whilst dirt removal is now more common place in boiler installations thanks to increased awareness and stipulations from boiler manufacturers that they must be installed to obtain extended guarantees, awareness about the importance of air removal is lacking, often leaving homeowners questioning why the extra cost of a deaerator is required.
Trapped air left in heating systems can contribute towards a whole host of annoyances, from radiator cold spots and noisy pipework, to the need to frequently bleed radiators and higher than expected energy bills. More worryingly, trapped air in the form of microbubbles will lead to the formation and build up of magnetite, which can often cause boiler breakdowns. Installing a deaerator, in conjunction with a dirt separator, will remedy and help prevent these system problems from reoccurring throughout the winter months.
So, whilst encouraging the customer to make the initial investment upfront can sometimes be a challenge, explaining what they can potentially save on repairs and energy use further down the line can help them to see the long-term benefits.
To help installers overcome these hurdle, Spirotech developed Better Heating; a toolkit that helps heating engineers to educate homeowners on the dangers of leaving air and dirt untreated in a heating system. Created in line with installer feedback, the toolkit includes a consumer-friendly website, animated videos and downloadable leaflets.
The Better Heating website includes an easy to use symptom checker, which helps identify signs of trapped air and dirt within the home. Additionally, homeowners can learn more about how air and dirt may have entered their system and the products that can be installed to remove them for a more efficient and reliable heating system.
Customers can also view a series of short videos that explain how air and dirt form in a heating system and the benefits or deaeration and dirt separation. The animated videos are a great way to demonstrate the trapped air in the form of microbubbles within a system, as whilst an installer can easily take a sample of system water to show the homeowner how contaminated their system is with magnetite, it is much more difficult to show the presence of air.
In addition, Spirotech has also made informative leaflets available to installers in digital or printed form that can be left behind or sent to the homeowner during the quotation process.
With more people set to spend more time at home this winter, it is essential that systems are cleaner, more efficient and less likely to break down. By utilising the Better Heating resources available to them and helping to educate homeowners on the crucial role that deaerator and dirt separation will play in maintaining system health, installers can help homeowners enjoy healthier heating this winter.